1.Pay as you earn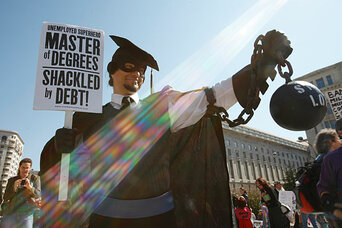 The biggest news of the president's plan is that some borrowers will be able to cap their monthly loan repayments at 10 percent of their discretionary income as early as next year. (Current law allows a 15 percent cap and will lower that to 10 percent in 2014.)
An estimated 1.6 million borrowers will be eligible to lower their payments next year under this plan. Students who had a loan in both 2012 and sometime between 2008 and 2011 will qualify, an Education Department spokesman says.
An example offered by the Obama administration is a nurse earning $45,000 a year with $60,000 in federal student loans. Under the current income-based repayment (IBR) plan, he or she would pay $358 a month, but under the new plan announced by Obama, payments would be reduced further, to $239.
Borrowers should be aware that the length of their payment period may increase if they opt for the lower monthly payment.
"IBR has already helped nearly half a million borrowers lower their payments and avoid default, but many more borrowers are struggling to keep up .... With these changes on the way, it's more important than ever to make sure that the millions of borrowers who could benefit from IBR know it's out there," said Lauren Asher, president of The Institute for College Access & Success (TICAS), which helped develop the original IBR policy proposal.
For more information about eligibility for the IBR plan, see www.studentaid.ed.gov and www.IBRinfo.org.
Loan forgiveness after 20 years or less
After 20 years of responsible payments under the income-based repayment (IBR) plan, the remainder of a federal loan will be forgiven under Obama's new plan. Currently, those remaining debts are forgiven after 25 years.
Some borrowers working in public-service and nonprofit jobs qualify for loan forgiveness after 10 years. More would qualify for this if they take advantage of the consolidation of loans under Obama's new plan. (More on that in item 3.)
New loan-consolidation offer
While all new federal loans now come through the Direct Loan program administerd by the Department of Education, nearly 6 million borrowers currently make more than one monthly payment because they have both Direct Loans and an older form of loan known as Federal Family Education Loans (FFEL).
Starting in January, borrowers can consolidate and make one monthly payment through the Direct Loan program. By taking advantage of this limited-time offer, they could get a 0.25 percent interest reduction on their FFEL loans and another 0.25 percent savings on their entire consolidated balance.
The Obama administration hopes this will reduce defaults, since making multiple payments to different servicers is sometimes a contributing factor in defaults.
This move will also save the administration money because it will have to pay less to servicers of FFEL. It will use those savings to pay for the accelerated income caps and loan forgiveness provisions, an Education Department spokesman says.
Know before you owe
New information is coming to help students compare financial aid packages before they decide on a college and take on student loans.
The Consumer Financial Protection Bureau and the Department of Education are encouraging colleges and universities to use a model financial aid disclosure form. The form aims to allow students to compare aid packages and clarify both the costs and risks of student loans.
To give your feedback on how to improve the form, visit the Consumer Financial Protection Bureau website.
Loan paydowns for start-up entrepreneurs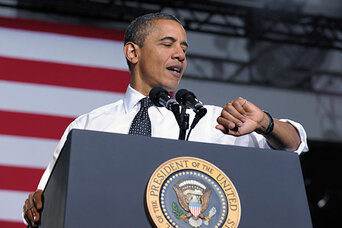 In response to Obama's call to promote entrepreneurship, the Young Entrepreneur Council and Gen Y Capital Partners are planning to take student loans off of people's minds as they start their new businesses.
For some young entrepreneurs who enroll in the government's income-based repayment plan, Gen Y will make those monthly payments for up to three years. Their goal is to make this and other investments in up to 100 startups over the next five years.