1.Betty Ford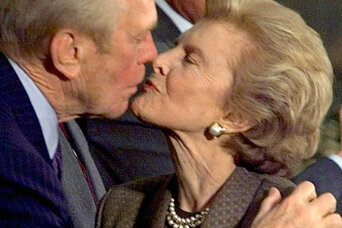 Betty Ford's honesty defined her, as first lady and beyond.
After her breast cancer diagnosis in 1974, Mrs. Ford first used her influence as first lady to speak about breast examinations, treatment options, and emotional side effects of the cancer. Her openness about cancer and female health inspired change for women who had been ashamed of their own struggles with the disease.
Unlike many politicians, Ford participated in interviews without receiving the questions beforehand, and her answers sometimes shocked listeners. She spoke of sleeping with the president – countering assumptions that they slept in separate beds – and her respect for unmarried couples who chose to live together. Ford also commented on widespread marijuana use by youth and compared it to having a "first beer."
Ford endlessly lobbied for the passage of the Equal Rights Amendment that would guarantee equal rights to all on the federal, state, and local levels. Her campaign for women's rights garnered her Time magazine's "Women of the Year." She urged the president to designate 1975 as International Women's Year, and she continued to fight for rights and larger roles in society for women after President Ford lost his reelection bid.
Ford fulfilled the traditional charitable efforts of first ladies by working with several organizations, including the Hospital for Sick Children and No Greater Love, both of which benefitted minority patients.
Ford's public honesty continued after she moved out of the White House, most notably regarding her relationship with alcohol. She fully disclosed her dependence on it and her experience undergoing a family intervention and rehabilitation. Her experiences led her to establish the Betty Ford Center, a part of the Eisenhower Medical Center in California created to help women cope with issues that can lead to alcohol and drug abuse.
Against Republican norms, Ford spoke out in support of people fighting AIDS after she realized many of those individuals also suffered from alcohol or drug dependencies. She also advocated for gay rights in the workplace and for same-sex marriage. She wrote, "God put us all here for His own purposes; it's not my business to try and second-guess Him."
Rosalynn Carter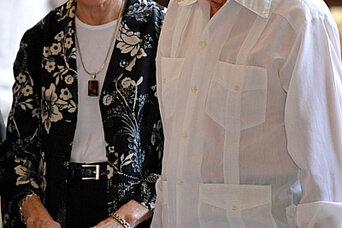 Rosalynn Carter set a new standard for political activity among first ladies.
As early as Jimmy Carter's presidential campaign, she traveled around the US to raise support for him. Her involvement remained steady throughout her term as first lady, and included weekly business lunches to discuss policy issues with the president in the Oval Office every Wednesday. For the first time, a first lady kept an office in the East Wing of the White House, which had previously been used for the first lady's projects and scheduling staff.
One of her first policy efforts – that she still advocates for today – focused on mental-health issues. Named the active honorary chair of the President's Commission on Mental Health, Mrs. Carter assembled an advisory board of experts that outlined policies to reform health insurance, public housing, Medicaid and Medicare for the chronically mentally ill. Carter also worked to increase federal funding for research grants from the National Institute of Mental Health.
In 1979, Carter testified before the Senate Subcommittee on Health in support of the Mental Health Systems Act, originally written by her advisory board. In September 1980, the Senate passed and funded the act.
Carter also used her influence to aid the elderly, in reforming Social Security, lobbying against the mandatory retirement age, and working to increase funding for elderly services.
Carter engaged in politics beyond US borders as well. In the summer of 1977, she embarked upon one of the most extensive international itineraries for a first lady, during which she discussed human rights, arms reduction, and drug trafficking – in fluent Spanish.
Carter also became involved in the refugee crisis in Cambodia, raising millions of dollars for the newly created National Cambodian Crisis Committee and urging the president to allow more Cambodian refugees into the US.
Since 1980, Carter has worked with her husband on Habitat for Humanity and The Carter Center, which they jointly founded, where she serves as chair of the Mental Health Task Force. In 2010, Carter released her book "Within Our Reach: Ending the Mental Health Crisis."
Nancy Reagan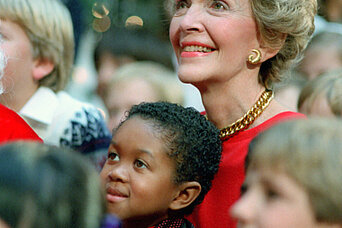 Nancy Reagan brought Hollywood charm and innate grace to her efforts to personalize the war on drugs, seeking to eradicate drug abuse in America.
"She brought the question of drug abuse to the forefront," says Myra Gutin, author of "The President's Partner: The First Lady in the Twentieth Century."
Her efforts included traveling almost 250,000 miles throughout the nation and oversees to work with young people and their families. The former actress also appeared on television shows, taped public service announcements, and wrote articles.
Her star power and stage presence were key to the campaign, says Professor Gutin, who also teaches communication at Rider University in New Jersey.
The phrase "Just Say No," coined by some California students, immediately stuck to the campaign – and has since become synonymous with memories of her tenure. After leaving Washington, she launched the Nancy Reagan Foundation to continue in her battle against drug abuse, which continues to this day.
After a 1981 assassination attempt on her husband, Mrs. Reagan increased her monitoring of his schedule and activities, even consulting an astrologer when planning key events. After he left office, she continued to support him as his health deteriorated.
While first lady of California, Reagan donated the salary she earned as a columnist to a POW-MIA organization. She visited institutions that provided care to the elderly and handicapped. She also spearheaded the "Foster Grandparent Program," first in California and eventually throughout the country.
Barbara Bush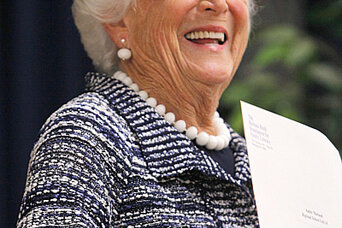 For first lady Barbara Bush, the White House limelight presented an ideal opportunity to promote a cherished issue.
The daughter of a magazine publishing professional, Mrs. Bush grew up loving to read. After her son, Neil, was diagnosed as dyslexic, her interest in literacy and reading spiked.
"Where her daughter-in-law's [key issues were] literacy and education, Barbara Bush's focus was on literacy," says Gutin, a first lady historian.
Bush traveled throughout the country to promote universal literacy, even starting her own foundation to support families reading together.
"She was always out there," says Gutin, noting Bush's tradition of bringing a new reader with her to public events, introducing him or her as the newest consumer of books and literacy.
In the political arena, Bush had a talent for uniting rival factions of the Republican Party, and a gift for public speaking that many considered an asset to her husband's efforts.
Throughout her 12 years in Washington, during her husband's vice presidency and presidency, Bush drew public attention to social issues plaguing the District of Columbia.
Hillary Clinton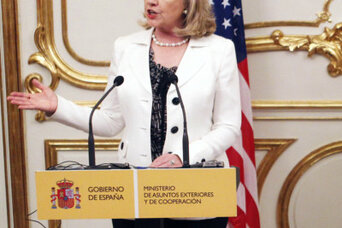 A revolutionary first lady in many ways, Hillary Rodham Clinton sought to transform the position from a largely ceremonial role into that of a policy adviser to the president.
"She re-expanded the role of first lady," says Gutin. "I think she showed there was flexibility there that perhaps her predecessors had not taken advantage of."
In her first major undertaking as first lady, Ms. Clinton spearheaded the administration's fight for health-care reform. While that effort was largely unsuccessful, Gutin notes that Clinton rebounded quickly.
"I would say the good outweighed the bad," Gutin says, noting in particular a speech Clinton made in Beijing concerning human rights. "She balanced that against the fact that she kind of had a crash and burn with health care."
Clinton received both praise and censure for standing firmly by her husband's side during the Monica Lewinsky sex scandal that tarred Bill Clinton's second term. "Women were really on the fence" about her decision, Gutin says. "Even if you ask that question today, people may still have a mixed answer. There are still women who are mad at her."
In 2000, she made history as the only former first lady to be elected to the United States Senate. Far from ending her career in politics and government there, Clinton launched a campaign for president in 2008 and currently serves as secretary of State.
Her popularity has fluctuated widely, but in 2010 she tied President Obama in topping Gallup's annual "Most Admired" poll, beating out Oprah Winfrey, Sarah Palin, former President George W. Bush, and others.
Laura Bush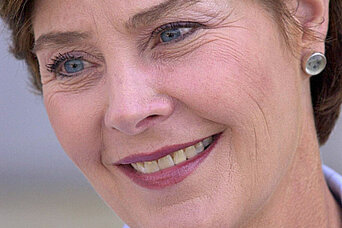 As first lady, Laura Bush continued and expanded her efforts as the first lady of Texas: to promote literacy, education, and women's rights.
The former school librarian partnered with the Library of Congress to launch an annual National Book Festival that fills the National Mall with authors, books, and readers each autumn.
Whether petitioning Congress for higher teacher salaries or fundraising for the National Book Festival, Mrs. Bush went to great lengths to improve education and literacy.
Toward the close of her husband's second term, Mrs. Bush stepped up her efforts with both legislators and reporters as part of the administration's push to reauthorize her husband's prized education bill, "No Child Left Behind."
While she was criticized by some for her infrequent public appearances, she increased her public profile over her husband's eight years in office.
Both during and after her tenure as first lady, Gutin notes, Bush has concerned herself with the plight of Afghan women. She continues to raise money to support women there, says Gutin, recently fundraising to help young girls attend school.
Michelle Obama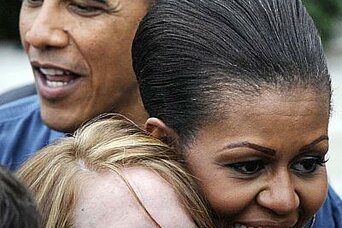 President Obama often refers to Michelle as his "rock," but her duties as first lady extend beyond supporting her husband and two daughters.
In addition to her savvy style, which she says encourages women to be economically conscious shoppers, she tackles national issues such as childhood obesity, voluntary service, community activism, and support for military service members and their families.
Her community outreach began within weeks of moving into the White House, as she met with the city's mayor and took her first of many visits to local schools, the Department of Education, and the Department of Housing and Urban Development.
Mrs. Obama's "Let's Move" campaign is tackling childhood obesity, with the goal of eliminating it within a generation. Her efforts focus on serving healthier food in schools, providing parents with helpful information, and encouraging physical fitness, all with a goal of improving children's quality of life.
Working with Dr. Jill Biden, wife of Vice President Joe Biden, Obama launched the "Joining Forces" campaign earlier this year, to support military families.
She recently returned from a visit to South Africa, during which she focused on encouraging and inspiring youth. She spoke to a group of young African female leaders and read to children in impoverished neighborhoods, with her daughters.