Al Capone (1899-1947)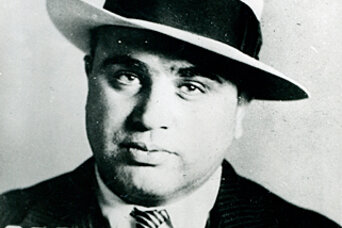 Al Capone was brought down not for murder nor for organizing the St. Valentine's Day Massacre. In 1931, Capone was sentenced to 10 years in prison for something less associated with violent criminal masterminds: tax evasion. Capone had never filed an income tax return, and investigators found proof that he received millions in income from illegal activities.
Capone began serving time in the Atlanta U.S. Penitentiary in 1932. It was known as one of the toughest prisons in the country, and Capone spent his time cobbling shoes. In 1934 he was transferred to Alcatraz, where he was cut off from contact with the outside world. At Alcatraz, Capone's health declined due to complications from syphilis, which he had contracted as a youth. He spent his last year at Alcatraz in the prison hospital, before being transferred to the Federal Correctional Institution at Terminal Island, Calif. to serve a one-year misdemeanor sentence. When freed in 1939, Capone had little power within organized crime. His physical and mental health continued to decline, until he died in 1947.
Charlie 'Lucky' Luciano (1896-1962)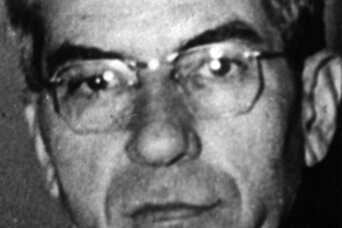 Crime boss Charlie Luciano redefined New York City organized crime in the 1930s, pushing for its infiltration of legitimate businesses and for a more orderly chain of command. Although he was a murderer, he was convicted of leading of a prostitution ring in 1935.
Luciano was sentenced to 30 to 50 years in prison, but received a shorter term in exchange for helping the U.S. military during World War II. Luciano used his underworld connections to help U.S. intelligence agents locate German spies. He later used his Italian connections to help the U.S. Navy plan its invasion of the country. In 1946, New York Gov. Thomas E. Dewey pardoned Luciano, under the stipulation that he would be deported to Italy. Luciano died there in 1962.
Frank Lucas (b. 1930)
Frank Lucas played a large roll in the influx of heroin in 1970s New York. Using connections in Vietnam, he had the drug shipped home in the body bags of U.S. soldiers. A Drug Enforcement Agency taskforce eventually got the best of Lucas, and he was sentenced to 70 years in prison in 1976. After serving five years, he became an informant, and provided information that led to more than 100 people being convicted of drug violations. For this information, Lucas was released for time served, and put on parole for life. Lucas' rise and fall is depicted in American Gangster, in which he is played by Denzel Washington.
John Gotti (1940-2002)
John Gotti became the head of New York's Gambino crime family in 1985. Despite being responsible for many crimes, for years no charges would stick to "The Teflon Don." That changed in 1992, when a jury convicted Gotti of 13 murders and a slew of other crimes. Gotti received life in prison without the possibility of parole, and began serving his sentence at the United States Penitentiary at Marion, ILL. Gotti was held in solitary confinement 23 hours a day. Before his death in 2002, he had been transferred to a prison hospital in Springfield, Mo.
[Editor's note: The original version incorrectly featured a photograph of John Gotti's son, John Gotti III, and incorrectly gave Gotti's nickname as "The Teflon John."]