1.Who are these people?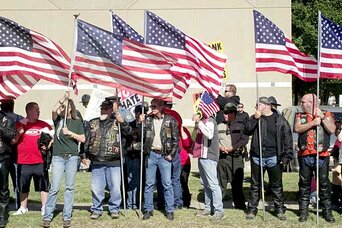 Based in Topeka, Kan., Westboro Baptist Church (WBC) is an unaffiliated church led by the Rev. Fred Phelps, and attended mostly by some 70 members of the extended Phelps family. The fundamentalist congregation hews to an extreme ideology that condemns homosexuality and believes that America's national misfortunes are a direct result of God's wrath for failing to condemn gays, Catholics, Jews, and others.
WBC came to national awareness in 1998 after the group picketed the funeral of Matthew Shepard, who was beaten to death for being gay. The group pickets every day in the Topeka area, and travels nationally to picket events that are likely to get widespread coverage. Westboro officials claim to have held over 41,000 protests since 1991, picketing events ranging from military funerals to high school theater productions.
Last year, the group picketed Michael Jackson's funeral and released a recording called "God Hates the World" to the tune of "We Are the World," a charity song that Jackson sang on.
Many of its larger protests have been met with counter-protests, some of which have turned ugly. In 2008, WBC picketed the funerals of three students killed in a house fire at the University of Wisconsin-Stout, but were driven off by a group of 1,000 students who confronted them.
Why do they picket military funerals?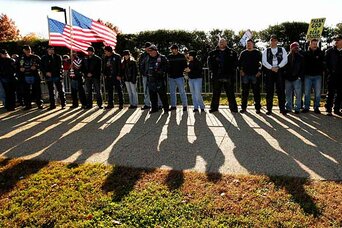 During the past decade, Westboro expanded its "God hates fags" crusade by also picketing military funerals, part of its strategy to get maximum effect from its protests.
The group's use of signs such as "Thank God for dead soldiers" have brought it politically charged attention in a country in the midst of military endeavors in Iraq and Afghanistan that have led to the deaths of more than 4,400 US service men and women.
"Our attitude toward what's happening with the war is [that] the Lord is punishing this evil nation for abandoning all moral imperatives that are worth a dime," Fred Phelps has said.
The Patriot Guard Riders, a motorcycle group, fulfills its mission of "shielding the mourning family and their friends from interruptions created by any protester or group of protesters" by revving their engines loud enough to drown out picketers.
Does the law allow Westboro Baptist Church's protests?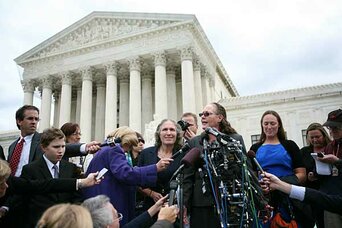 WBC won a $200,000 settlement in the 1990s against Topeka after the city tried to stop the group from protesting.
Since then, numerous states have passed laws restricting the proximity of protesters to funerals. In 2006, President George W. Bush signed into law the Respect for America's Fallen Heroes Act, which restricts any protests within 300 feet of a cemetery managed by the National Cemetery Administration.
In October, the US Supreme Court heard the case of Snyder v. Westboro Baptist Church to determine whether a federal appeals court acted appropriately by overturning a $5 million award that Snyder won from the WBC after it picketed the funeral of his son, Matthew Snyder, who was killed in Iraq.
"Snyder had one (and only one) opportunity to bury his son and that occasion has been tarnished forever," wrote Mr. Snyder's lawyer in his petition to the Supreme Court. "Snyder deserved better. Matthew deserved better. A civilized society deserved better."
Westboro representative Margie Phelps, in legal filings responded: "The Constitution is imperiled if a subjective claim of outrage can be used to penalize into silence speech that does not make false statements of fact, uttered in public arenas on public issues."
The appeals court which overturned the verdict wrote that "It is a fair summary of history to say that the safeguards of liberty have often been forged in controversies involving not very nice people," in its ruling.
The Supreme Court is expected to rule on the case next year.
Why is Westboro Baptist Church picketing Edwards' funeral?
Elizabeth Edwards, who helped her husband, former Sen. John Edwards of North Carolina, with two presidential runs before the couple separated last year, died on Tuesday. Her funeral is scheduled for 1 p.m. at Edenton Street United Methodist Church in Raleigh.
In a release, WBC accused Ms. Edwards of "spewing blasphemy" and mounting a "smash-mouthed assault on His deity." The statement went on: "Elizabeth Edwards & her faithless husband, John, lightly esteemed what they had. They coveted things that were not theirs – and presumptuously thought they could control God."
Edwards was a staunch proponent of gay rights. "I'm completely comfortable with gay marriage," she said as part of the kickoff to the 2007 Gay Pride Parade in San Francisco.
Officials at the Edenton Street United Methodist Church said on Friday they have not yet decided how to respond to WBC's vow to picket Edwards' funeral.