New Orleans
1.Law enforcement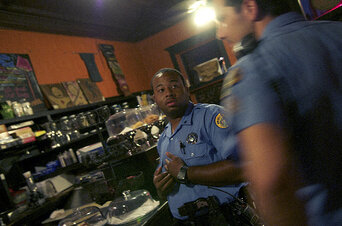 Long plagued by charges of corruption and brutality, the New Orleans Police Department is being overhauled by Landrieu, who has asked the US Department of Justice for help.
Federal prosecutors, FBI agents, and lawyers are investigating allegations of misconduct that occurred during and after Hurricane Katrina. Sixteen current and former officers have been indicted this year on charges including murder, assault, and covering up misconduct.
Among the cases: Six current and former officers and sergeants are charged in the Danziger Bridge shootings, in which two civilians were killed and four others wounded in the aftermath of Katrina. Five other officers have been charged in the death of Henry Glover, whose body was found in a burned out car near a police station in Algiers after the storm.
Mayor Landrieu recently announced a 65-point police reform plan. A zero-tolerance policy requires that any police officer who lies or files a false police report be fired. Landrieu has appointed an independent civilian monitor who works with the city inspector general's office to investigate allegations of misconduct.
Flood protection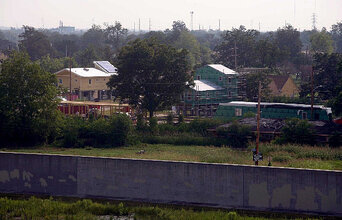 According to the U.S. Army Corps of Engineers, 220 miles of levees and floodwalls have been repaired and restored to pre-Katrina levels of protection, but some critics wonder whether this is enough to protect the city.
A Department of Defense study concluded that the 2005 flood was a manmade disaster, caused by the failure of the levee system built and maintained by the Army Corps. The federal government has since spent $15 billion on rebuilding a flood protection system rated to withstand the worst storm likely to occur once every 100 years.
The Corps is now building a massive flood wall that is 26 feet high and two miles long east of New Orleans, closing a gap in the system that funneled a huge storm surge inland during Katrina. New flood walls and flood gates have been built along canals in New Orleans, where breaks flooded 80 percent of the city.
But Bob Bea, one of the country's most prominent civil engineers, says the levee system is still a "patchwork quilt" vulnerable to a severe storm. Bea and others have called on the federal government to build levees that could withstand a once-in-500-year storm.
Public schools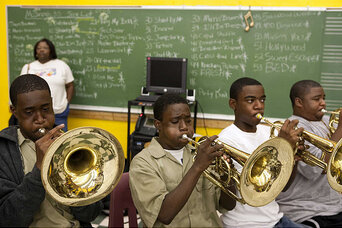 Among the worst in the country before Katrina, the New Orleans school system is being reinvented in a state-led effort. Seventy percent of schools are now charter schools, a far higher rate than in any other city in the nation.
The state-run Recovery School District now directs two dozen schools and oversees 46 charters. The local Orleans Parish school district, predominate before Katrina, now runs 16 schools. Testing suggests that public school students are doing substantially better than before Katrina. According to a report released this month by the Brookings Institution, 34 percent of public school students were in "academically unacceptable" schools in 2009, compared to 67 percent in 2005.
School choice is now a defining characteristic of the system, and a poll conducted last year found wide public support: 69 percent of public school parents said charters have improved education in New Orleans.
But it remains a system in recovery. Many students attend classes in portable classrooms while awaiting permanent facilities. Last month, the Southern Poverty Law Center filed a complaint with the Louisiana education department, saying the state has failed to ensure that students in New Orleans with disabilities have equal access to education and are protected from discrimination.
Public housing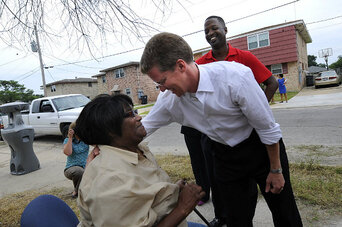 Although a substantial portion of public housing in New Orleans received little damage during the flood, much of it was scrapped in the aftermath of Katrina. Five years later, the city still faces a severe shortage of low income housing, with a waiting list of 28,000 tenants for subsidized housing.
In 2008, local housing officials and the U.S. Department of Housing and Urban Development authorized demolishing four of the city's largest public housing complexes, eliminating 3,077 apartments that had been occupied before Katrina.
Mixed income redevelopment has begun at the sites of two of the former developments. Rebuilding at the two other complexes is far behind schedule. Earlier this year, federal housing officials wrote a scathing assessment of the Housing Authority of New Orleans, noting that the local agency had overspent and could finance only half of the affordable apartments it had planned.
Columbia Parc, site of the former St. Bernard projects, is the most successful redevelopment to date, backed by investor Warren Buffett, hedge-fund manager Julian Robertson, and Atlanta developer Tom Cousins. Fifty apartments are now occupied, with plans for 1,325 apartments and homes.
Only a handful of former residents have moved into the new mixed-income housing at Columbia Parc, however. In May, former residents staged a sit-in at the company's office, demanding the right to move into the new housing.
Medical services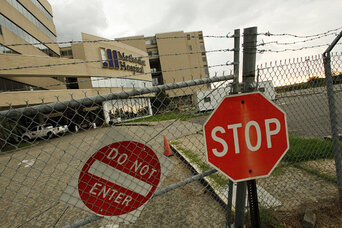 Metro New Orleans had 23 hospitals before Hurricane Katrina. Five years later, the city has twelve, and seeing a health care provider often requires long drives and long waits. Charity Hospital, which served the city's poor and uninsured, has been shuttered since the flood.
Four years ago, state and city officials decided not to reopen Charity and instead build a new $1.4 billion state of the art medical complex, called University Medical Center, on a 70 acre site near downtown. While FEMA and the state will provide nearly $800 million for the project, the rest is being raised with a bond issue which has yet to take place. The governing board for UMC Hospital Corporation met for the first time last month. Ground breaking is scheduled for December, but the new complex is expected to open no earlier than 2014.
Since the flood, many patients who went to Charity Hospital are being served by nearby LSU Public Hospital, which has half of the 550 beds it had before Katrina. A number of new community clinics have also opened in underserved neighborhoods, funded in part from $2.7 billion in federal Gulf Coast recovery funding allotted for health and human services.
Elsewhere, construction has started downtown on a new VA medical facility, and this month Mayor Landrieu authorized the city to pay $16.25 million for the former Methodist Hospital in eastern New Orleans. The redeveloped hospital will serve more than 80,000 local residents who now have to drive 30 minutes to reach a hospital.