Atlanta
1.Eric Rudolph, hiding in plain sight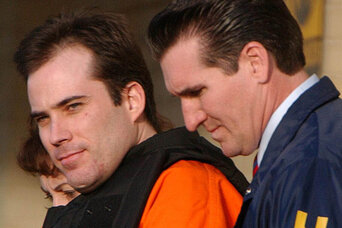 No law-enforcement resources were spared in the hunt for Eric Rudolph, who was believed to be responsible for the 1996 bombing in Atlanta during the Olympics, as well as the bombing of a gay club and two abortion clinics.
The search centered on the nooks and crannies of the western North Carolina mountains, but an unprecedented FBI manhunt turned up few clues. Many police thought Mr. Rudolph had left the area, but he actually survived for five years wandering between two camps within sight of the church steeples of Murphy, N.C.
Depending on his own survival skills as well as probably a small band of sympathizers in contrarian-minded moonshine country, Rudolph survived by apparently raiding home gardens and fishing. Many local residents reported seeing him, but apparently FBI "wanted" posters didn't spring to mind.
But the allure of living on the outskirts of society – albeit a society he rejected – may have worn thin, some suggested. In May 2003, a rookie Murphy police officer spotted a man in the early morning hours raiding a dumpster behind the town Sav-A-Lot store. After his arrest, Rudolph signed autographs of his "wanted" posters for sheriff's deputies.
"I'd like to say he was or he wasn't [helped]," Officer Jeff Postell, a former Wal-Mart security guard who caught Rudolph behind the Save-A-Lot market, told the Monitor at the time. "But I don't know."
The D.C. sniper: 'Call me God'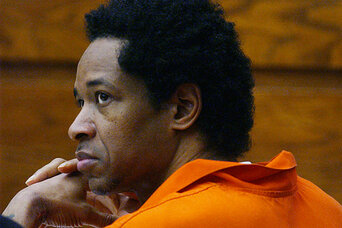 The coldblooded sniper killings of 10 people along the East Coast in the fall of 2002 shook America to its core. John Allen Muhammad and his teenage conspirator, Lee Boyd Malvo, had begun their spree in Louisiana and Alabama and ended it in the metro D.C. area. Their ultimate goal, Mr. Malvo later testified: "to set up a camp to train children how to terrorize cities."
As they eluded capture, and while police searched for a white van, Mr. Muhammad and Malvo left cryptic messages, including a tarot card with the phrase "Call me God" on it. Muhammad also boasted of his exploits in a phone call to police from a pay phone.
As investigators got closer to the identities of the snipers, they were at one point shocked to realize that officers had checked the license plate of Muhammad's blue 1990 Chevrolet Caprice several times. But the checks weren't flagged because there were no outstanding issues with the license plate and authorities were at that point looking for a white van.
The pair were captured on Oct. 24, 2002, sleeping in their car off Interstate 70 in Maryland. Montgomery County Police Chief Charles Moose has never explained the message he relayed to the sniper four hours before the capture: "You have asked us to say, 'We have caught the sniper like a duck in a noose.' We understand that hearing us say this is important to you."
Little Houdini: infamy by stealing Crystal Gayle's tour bus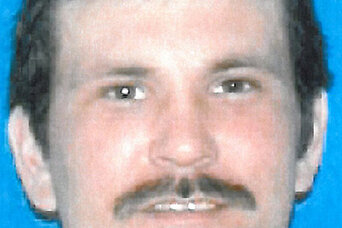 Not all manhunts are on the grand scale.
In March 2009, Christopher Daniel Gay, a small-time con man who specialized in stealing construction equipment, was in the back of a police cruiser, returning home for prosecution in Tennessee after escaping during a prison transit and stealing country singer Crystal Gayle's tour bus in a bid to go home and see his ailing mother, Annie.
He escaped again by slipping out of handcuffs and leg shackles outside a Waffle House in Cobb County, Ga., cementing his reputation as "Little Houdini." Mr. Gay became somewhat of a folk hero whose poor upbringing and desire to make a stamp on the world caught the attention of folk singer Tim O'Brien, who penned "The Ballad of Christopher Daniel Gay."
Even Tennessee law-enforcement officials viewed Gay's coolness and lock-picking skills with begrudging respect. Police, in fact, gave him the nickname "Little Houdini." Touched by Gay's attempt to see his mother, Coopertown, Tenn., police chief Dave Barrera made it known that Gay could see Annie one last time if he turned himself in – a reunion that never happened.
"I think the justice system wants us to believe that they can get everybody, so you kind of want him to see his family and escape somewhere and live happily ever after somehow," Mr. O'Brien told the Monitor last year. "The only way to do that is to be an outlaw, and maybe it's still possible. I think it is."
Gay was arrested two weeks after his Georgia escape in a Florida parking lot.
Osama bin Laden and the 'American ninja'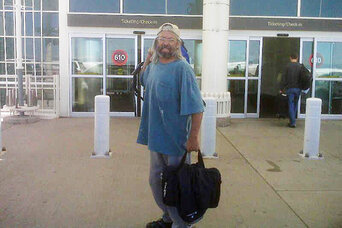 The search for Al Qaeda chief Osama bin Laden is the largest international manhunt in history – more notable for its lack of success.
Although US officials have largely played down the importance of catching Mr. bin Laden in the war against terror, a 2009 assessment by the director of national intelligence revealed that American drone aircraft were still hunting the Al Qaeda strongman, specifically around Pakistani border areas like the province of Chitral.
It was in that area that Pakistani police earlier this year detained Gary Brooks Faulkner, an American who said he had slipped away to hunt bin Laden. He was armed with a gun, a sword, and Christian literature. US authorities have put a $50 million bounty on bin Laden's head.
Rifaat Hussain, a security analyst at the Quaid-i-Azam University in Islamabad, Pakistan, told the Monitor earlier this year, "We haven't seen any fresh intelligence suggesting where [bin Laden]'s possible hide-outs are."
Mr. Faulkner was subsequently returned to the United States without having to face charges in Pakistan, but he is planning a return to the area in late August, according to the website Mediaite. "[H]ow can you not admire a man single-handedly taking on the head of Al-Qaeda with a giant sword?" Mediaite writes.