1.'Leap Day,' season 6, episode 9
Everyone celebrates "Leap Day" on February 29, which in "30 Rock" land is the day when Santa-like Leap Day mascot Leap Day Williams emerges from the Mariana Trench to trade candy for children's tears. Liz Lemon (Tina Fey) has never heard of Leap Day, and the other characters take the opportunity to educate her. Meanwhile, Jim Carey spoofs Tim Allen's movie "The Santa Clause" (1994) and his own career in family movies as a man who gets turned into Leap Day Williams to learn the true meaning of Leap Day (Andie MacDowell plays his wife in a cameo shout-out to "Groundhog Day" (1993)). Learning the true meaning of Leap Day (a holiday that doesn't actually exist) is a theme for this episode as Jack, Tracy, and Liz all find themselves in situations that test their moral fiber.
'Greenzo,' season 2, episode 5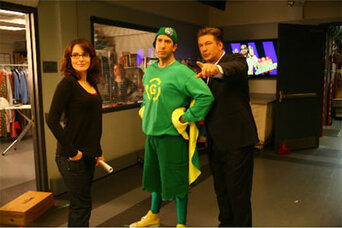 As part of General Electric's corporate scheme to make money from the "environmentalism trend," Jack (Alec Baldwin) hires an actor to play Greenzo (David Schwimmer), NBC's new environmental mascot. Greenzo becomes a hit, but as he gains popularity he starts to become more and more deeply invested in his role and criticizes everyone's poor eco-knowledge and practices. Jack fires the actor and tries to get Al Gore to be the new Greenzo.
"30 Rock" has often been lauded for its ability to utilize guest stars like no other show and Al Gore's line is a perfect example. "Quiet!" he exclaims. "A whale is in trouble! I have to go."
'Queen of Jordan,' season 5, episode 17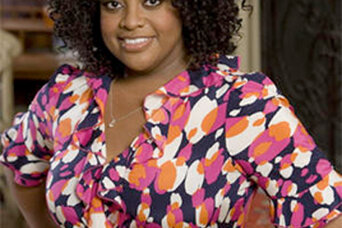 This whole episode pokes fun at reality TV shows both overtly and covertly. It's filmed in the style of a fake reality TV show, "Queen of Jordan," which stars Tracy Jordan's wife Angie and others. As Angie's team wedges themselves into Liz Lemon's life, Liz tries frantically to get Tracy back from Africa, where he went to get in touch with his roots. Meanwhile, hardcore conservative businessman Jack can't catch a break as the cameras capture him tripping on a camera cord on the floor and making comments which, when taken out of context insinuate that he is a closeted homosexual. Any attempt to set the record straight results in him falling further and further into the caricature that the show has created.
This episode has excellent editing, making it feel like a reality show. It also has a solid emotional core as Liz's repeated attempts to get Angie to help her retrieve Tracy unearth an unexpected twist.
'The Bubble,' season 3, episode 15
Liz discovers that her boyfriend Drew (Jon Hamm) lives his life in a metaphorical "bubble" – because he is so handsome, people just give things to him. Liz decides that they can no longer be in a relationship after realizing that the bubble has deprived him of some essential life skills. Meanwhile, Tracy's contract is ready for renewal with NBC, but Jack accidentally lets slip that Tracy doesn't need the money. Tracy quits the show and can only be drawn back after Jack threatens to fire Kenneth the page (Jack McBrayer). Not only a great episode, but watch for Kenneth getting upset – his accent becomes extremely strong.
'SeinfeldVision,' season 2, episode 1
In another ratings-grubbing GE scheme, Jack Donaghy decides to have a month of NBC television shows starring Jerry Seinfeld by editing clips of his TV show "Seinfeld" into the regular programs. Seinfeld hears of this plan and comes to the office to confront Jack. Meanwhile, Liz, trying to recover from a breakup, meets Seinfeld in an elevator and gets the advice she needs. Kenneth becomes Tracy's "office wife," taking care of most of his domestic needs.
Tina Fey's Jerry Seinfeld impression to his face is one of the great moments of TV comedy.
'Tracy Does Conan,' season 1, episode 7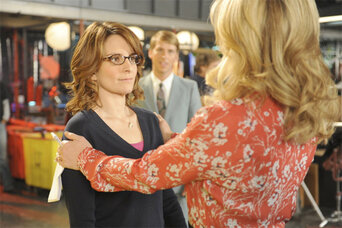 This episode is on a lot of top 10 lists, and rightly so. The main reason (in our opinion) for its status as a critics' favorite is the introduction of Dr. Leo Spaceman (Chris Parnell), pronounced Spa-cheh-min. Spaceman is a wildly inappropriate doctor without any sense of decorum or timing. In other plotlines, Jenna Maroney gets booted from a "Late Night with Conan O'Brien" guest spot in favor of Tracy, and Tracy begins hallucinating right before he's about to go on "Late Night." Liz and company scramble to get him his medicine and shove him onto the show, where he promptly falls asleep.
Conan O'Brien's guest spot is great, but Leo Spaceman became an instant classic.
'Succession,' season 2, episode 13
Jack finds out that he's going to be the next in line to head up the NBC corporation and decides to bump Liz up to the executive level. Liz immediately sells out when she sees her starting salary, but starts to crack under the pressure of the job. Before anything can become official, Jack's boss goes into a coma. Jack's rival Devin Banks, played by Will Arnett, takes advantage of the situation and maneuvers himself into a position of "power behind the throne."
In this scene, Liz promises to bring her friend Pete (Scott Adsit) up to executive, too.
'Rural Juror,' season 1, episode 10
Jenna's new movie, based on a Kevin Grisham (little-known brother of John) book, is coming out. It's title is a tongue twister – "The Rural Juror" – and no one can pronounce it. Liz watches a private screening of the movie and doesn't like it, and she and Jenna argue. Meanwhile, Tracy endorses his own celebrity product called "The Tracy Jordan Meat Machine." It's a terrible product and Jack manages to foist the endorsement onto Whoopi Goldberg.
Jenna and Liz work things out after Liz admits she's jealous of Jenna's success, and this is one of the first episodes we see Jenna and Liz's relationship develop a human element
Check out Jenna's interview with Barbara Walters (Rachel Dratch) about "Rural Juror."
'Dance Like Nobody's Watching,' season 6, episode 1
NBC launches a new talent show, "America's Kidz got Singing," and Jenna delights in her role as the mean judge, making children under the age of 15 cry on every show. Jack loves the high ratings the show is getting, but finds himself conflicted because of his own daughter. Kenneth prepares for the Rapture, but is disappointed when it doesn't happen. At first his co-workers mock him, but then they take pity on him. This episode shows the kind of warmth and depth that "30 Rock" can reach without losing sight of its silly roots.
Meanwhile, Liz can't be bothered to react to any of the star drama coming from Tracy. Jack and Tracy investigate and find out exactly what she's been up to in this clip.
'Rosemary's Baby,' season 2, episode 4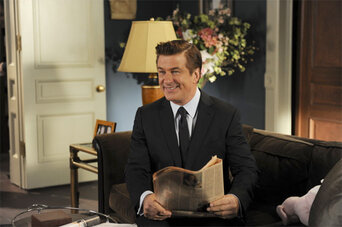 Whenever Tracy receives an order in this episode, he shouts, "You're not my dad!," so Jack decides to send Tracy to therapy, but ends up hijacking the session in possibly the funniest scene in all of "30 Rock" (we didn't show it here because of the language). Meanwhile, Carrie Fisher of "Star Wars" fame plays Rosemary, a former sketch comedian whom Liz invites as a guest writer on the show. Realizing Rosemary is crazy, Liz runs away from Rosemary's apartment in Little Chechnya. Meanwhile, Kenneth and Jenna find themselves in the center of an NBC page-off.