1.Black sesame ice cream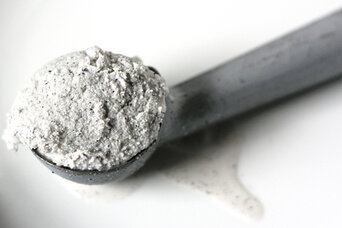 By Patricia Tanumihardja / The Asian Grandmothers Cookbook
Makes: 1 quart
Time: 10 minutes, active
2 cups half-and-half, or heavy cream
3/4 cup sugar
1/8 teaspoon salt
2 cups whole milk
1/2 teaspoon pure vanilla extract
1/4 cup black sesame seeds
Special equipment:
Spice grinder
Ice cream maker
1. Combine 1 cup of the heavy cream, the sugar, and salt in a large bowl and whisk until the sugar is completely dissolved.
2. Stir in the remaining 1 cup heavy cream, the milk, and vanilla extract. Cover and chill in the fridge for at least 1 hour. (If you are in a hurry, skip this step.)
3. Grind the sesame seeds in a clean spice grinder for about 5 seconds until they turn into a coarse powder. Don't grind for too long as the seeds will turn into a paste.
4. Pour the mixture into your ice cream maker and slowly pour in the ground black sesame. Churn according to the manufacturer's instructions. Transfer the ice cream to a freezersafe container and freeze for at least four hours or overnight.
Olive oil gelato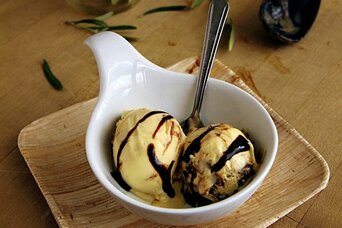 By Kim and Hong Pham / The Ravenous Couple
Olive Oil Gelato with Balsamic Swirl
Adapted from Food52.com
3/4 cup sugar
1/4 cup plus 2 tablespoons water
3/4 cup whole milk
Large pinch salt
4 egg yolks
1/4 cup plus 2 tablespoons California Olive Ranch Arbequina
3 tablespoons chilled balsamic reduction (optional)
1. Prepare an ice bath and a empty bowl. In sauce pan add the sugar, water, milk, and salt heat on low until dissolves. In a separate bowl beat the egg yolks until frothy and combine into the sauce pan a bit at a time while continuously stirring the pan. Continue to stir on low heat until mixture thickens to a custard consistancy. Transfer to ice bath and stir until cool and refridgerate covered overnight.
2. Whisk in 1/4 cup of olive oil a small amount at a time until smooth. We thought the taste wasn't too overpowering so we added the extra 2 tablespoons. Churn in ice cream maker following manufacturers directions. To add the chilled balsmic swirl, drizzle in small amount at a time during the last minutes of churning. Freeze for another 2 hours and enjoy.
Cooks note: For instructions on how to make a balsamic reduction, see this link. Enjoy with sprinkles of sea salt or extra drizzle of balsamic reduction.
Dulce de leche ice cream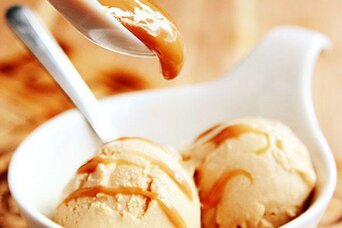 By Hong and Kim Pham / The Ravenous Couple.
Dulce De Leche Ice Cream
From Gourmet Magazine
2 cups whole milk
1 cup heavy cream
1 pound dulce de leche (about 1-2/3 cups)
1/8 teaspoon pure vanilla extract
3/4 cup chopped pecans (2-1/2 to 3 ounces), toasted (we omitted this)
1. Bring milk and cream just to a boil in a heavy saucepan over moderate heat, then remove from heat and whisk in dulce de leche until dissolved. Whisk in vanilla and transfer to a metal bowl. Quick-chill by putting bowl in a larger bowl of ice and cold water and stirring occasionally until cold, 15 to 20 minutes.
2. Freeze mixture in ice cream maker until almost firm.
3. Transfer ice cream to an airtight container and put in freezer to harden, at least 1 hour.
Bacon milkshake
By Kendra Nordin / Kitchen Report
Homemade bacon milkshake
Serves 2
4-6 pieces of bacon (depending on your bacon threshold), cooked
1/4 cup walnuts, toasted
6-7 scoops of vanilla bean ice cream
1/8 cup maple syrup
1/2 cup milk
1. Cook bacon in a frying pan on the stove top until good and crispy. Drain on a paper-towel covered plate and allow to cool. In a clean pan or a toaster oven, toast the walnuts.
2. In a food processor, grind the bacon and walnuts together until fine.
3. In a blender, combine bacon, walnuts, ice cream, maple syrup, and milk and blend until smooth. You may want to adjust the milk and/or ice cream to satisfy your shake-thickness preference.
4. Divide into two tall glasses, insert a straw into each glass, and serve immediately.
Lemon mint and currant raspberry granita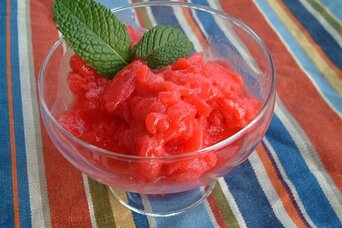 By Kendra Nordin / Kitchen Report
Currant and Raspberry Granita
Serves 4
1 cup currants
2 cups (1 pint) fresh raspberries
1 tablespoon fresh lemon juice
1/2 cup sugar
1/2 cup water
1. Purée the currants and raspberries in a blender. Press the liquid through a fine mesh strainer into a bowl. Add lemon juice.
2. In a medium saucepan, bring the water and sugar to a boil. Boil until the mixture has the consistency of a light syrup, about 4 minutes. Allow to cool.
3. Stir in the fruit purée and add to an 8″x8″ glass baking dish. Cover with foil and allow to freeze, about 3 hours.
4. Scoop into glass dishes and serve.
Lemon Mint Granita
Serves 4
1 cup water
3/4 to 1 cup sugar, to taste
2 cups fresh mint leaves
1/2 to 3/4 cup of fresh lemon juice, about 5 lemons
Zest of one lemon
1. In a medium saucepan, add water, sugar, and mint leaves. Heat on medium heat and stir until sugar dissolves. Heat for 4 minutes on low heat (you do not need to boil). Remove from heat and allow to cool.
2. Remove and discard mint leaves.
3. Add lemon juice and zest to sugar syrup and stir. Pour into an 8″x8″ glass dish and cover with foil. Place in freezer. Stir the granita every hour or so for up to 6 six hours until frozen.
4. Scoop out of dish with a fork by raking the ice into shards. Serve in glass dish and garnish with a mint leaf or two.
Strawberry cheesecake ice cream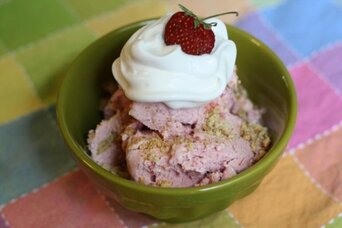 By Amy Deline / The Gourmand Mom
Strawberry Cheesecake Ice Cream
8 ounces cream cheese, softened
1/2 cup sugar*
1 cup sour cream
1 cup light cream
1 tablespoon lemon juice
1-1/2 teaspoons vanilla
2 cup fresh strawberries, halved if large
1 cup graham crackers, broken into small pieces
*Use more or less sugar, as desired, depending on the sweetness of your berries.
1. In a large bowl, beat together the cream cheese and sugar until creamy. Add the sour cream, cream, lemon juice and vanilla. Beat until smooth.
2. Add the strawberries and beat until the berries mostly break up, leaving a few delicious chunks.
3. Refrigerate for about an hour.
4. Pour the mixture into your ice cream maker and freeze according to your machine's directions. Add the graham crackers during the last 5-10 minutes of freezing.
Vegan coconut ice cream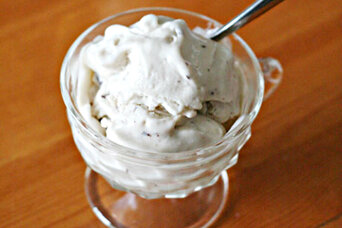 By Samantha Mills / Novel Eats

This makes enough for two people or for four people to each have a small serving. To make more I would suggest using two cans of coconut milk.
You can serve immediately, which will make it more of a soft serve, or stick it in the freezer for a few hours so it will set a little more. We prefer to eat it fresh as we haven't found a way for it to retain its smooth consistency after it sits in the freezer.
1 can coconut milk
1/3 cup sugar or agave nectar
1 teaspoon vanilla extract
1. Blend all ingredients until well combined, then chill for at least an hour. If you are using the Kitchenaid attachment, turn on the mixer to stir, then pour in the ice cream mixture and let it stir for about 15 to 20 minutes or it is at the desired consistency.