1.Egg muffins to go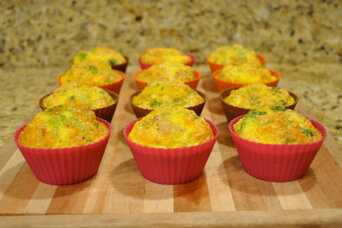 Eggs are one of the most versatile breakfast foods around, but few of us can spare the time to cook them in the morning. These eggs muffins are designed to be cooked ahead of time, then grabbed on the go. Egg muffins will keep one week in the refrigerator. Microwave 30 seconds to reheat.
Yield - 12 muffins
1/2 pound ground Italian pork or turkey sausage
4 ounces frozen chopped broccoli florets
1/2 cup shredded cheddar cheese
12 eggs
1/2 teaspoon salt
1/4 teaspoon pepper
12 parchment paper muffin wrappers or 12 silicone muffin cups
Directions
Preheat oven to 350 degrees F.
Heat skillet over medium heat. Add sausage and cook until no longer pink.
In a microwave-safe bowl, microwave frozen broccoli florets until thawed (approximately 4 minutes) and drain.
If using a muffin tin, line tin with parchment paper wrappers. If using silicone muffin cups, place cups on a baking sheet lined with foil (to catch any egg overflow and making clean-up much easier!).
In a large bowl, combine sausage, broccoli and cheese. Spoon mixture into cups, filling them 2/3 of the way, leaving room to add the egg mixture.
In another bowl with a pour spout, beat together 12 eggs. Add salt and pepper. Pour egg mixture into each muffin cup, being careful to leave a little room (1/4 inch or so) at the top.
Bake 25 minutes, or until muffins have risen and are firm.
Variation: Instead of Italian sausage, try diced bacon, Canadian bacon, ham, chorizo or crumbled breakfast sausage. Try other veggies such as diced red pepper, spinach, zucchini, mushrooms, etc. Mix and match at will!
Savory sweet potato, spinach and bacon casserole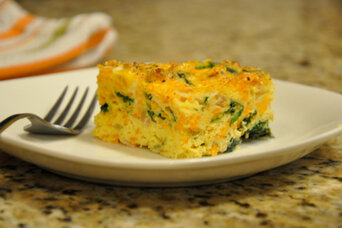 This egg-based casserole is savory and packed full of delicious veggies. Simply cut out individual portions as needed, and microwave 1 minute to reheat. Casserole will keep 1 week in the refrigerator.
Yield – 8 servings
1 sweet potato, peeled and shredded
6 ounces bacon, chopped
1/2 red onion, minced
1 container baby spinach (5 ounces)
1 cup ricotta cheese
10 eggs
1/4 teaspoon salt
1/4 teaspoon pepper
Cooking spray

Directions
Pre-heat oven to 375 degrees F.
Spray a 9x9-inch pan with cooking spray.
Heat skillet over medium-high heat. Add chopped bacon and cook until browned.
Remove bacon from pan and drain on paper towels. Pour off excess bacon grease, but do not wash out the pan.
Return pan to heat, and add onion. Sauté until softened.
Add spinach to pan. Sauté until wilted, approximately 3-5 minutes.
In a large bowl, combine bacon with the onion and spinach mixture. Add the shredded sweet potato and ricotta cheese and mix thoroughly.
Spread mixture into bottom of 9x9-inch pan.
Beat eggs together with salt and pepper. Pour over sweet potato mix. Bake for 45 minutes, or until top is golden and eggs are set. Let cool, then cover with foil and refrigerate.
Coconut pumpkin muffins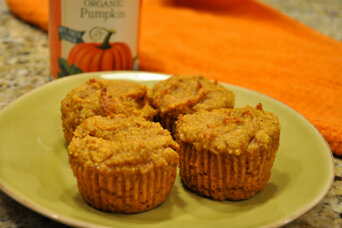 This recipe uses wholesome almond flour, walnuts and coconut flakes to help fill you up and keep you satiated until lunch. Incredibly moist, these muffins will easily keep for a week; simply store them in a Ziploc bag.
Yield – 12 muffins
2 eggs
1 cup canned pumpkin purée
1/3 cup raw honey
1/4 cup coconut oil, heated until liquid
2 teaspoons vanilla
2-1/2 cups almond flour
3/4 cup coconut flakes, unsweetened
1/2 teaspoon baking soda
1/4 teaspoon salt
1-1/2 teaspoons cinnamon
1/2 teaspoon nutmeg
1/4 teaspoon cloves
1/4 teaspoon ginger
1/2 cup chopped walnuts
10 parchment paper muffin wrappers

Directions
Preheat oven to 325 degrees F.
In a large mixing bowl, combine eggs, pumpkin, honey, coconut oil, and vanilla.
In a medium mixing bowl, combine coconut flakes, almond flour, baking soda, salt, cinnamon, nutmeg, cloves, and ginger.
Add dry ingredients to the wet ingredients, using a spatula to fold together.
When thoroughly combined, fold in chopped walnuts.
Line muffin tin with parchment paper wrappers.
Fill cups 2/3 full with the batter.
Bake for 25-30 minutes. Muffins will be decadently moist.
Slow cooker apple cinnamon oatmeal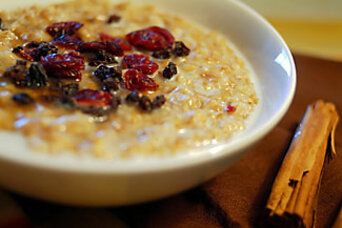 Cooking oatmeal overnight in a slow cooker results in a smooth, creamy porridge that can easily be ladled out the next morning, as long as you are willing to risk some burnt oatmeal edges and a sticky clean-up situation. However, this method of turning your slow cooker into a double boiler eliminates the risks of burnt oatmeal and a time-consuming clean-up job.
Store oatmeal in Tupperware in the refrigerator for up to 1 week. Add a splash of milk, then reheat oatmeal portions in microwave for 30 seconds.
Note: You must use steel-cut oats, also known as "Irish oatmeal," which look like small pebbles. Do not substitute regular rolled oats, as these have a much shorter cooking time.
Yield – 4 servings
3 apples, cored and cut into 1/2-inch cubes
1-1/2 cups 2-percent milk
1-1/2 cups water
1 (heaping) cup steel-cut oats
2 tablespoons maple syrup
1 tablespoon ground flax seed
1/2 teaspoon cinnamon
1/4 teaspoon salt
Optional garnishes: walnuts, almonds, bananas, dried fruit

Directions
Find a heat-proof bowl that will fit comfortably inside your slow cooker. Grease the inside of the bowl with butter or cooking spray.
Fill the slow cooker with water (on the outside of the bowl), until it reaches approximately halfway.
Place apples, milk, cider, water, oats, sugar, flax, cinnamon and salt to the bowl, and combine thoroughly.
Place the lid on the slow cooker and cook on low for 7 hours.
Banana-almond breakfast smoothie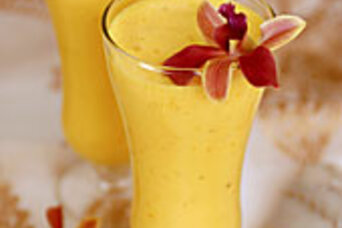 Not interested in eggs or grains? If you're looking for something a little lighter in the morning, check out this recipe for a banana-nut smoothie that will fill you up and keep you going until lunch.
Yield - 1 serving
1/2 cup plain yogurt
1 medium banana
1 tablespoon almond butter
1 tablespoon honey
1 teaspoon ground flaxseed
Dash of cinnamon

Directions
Combine ingredients in blender, and blend until smooth.