1.Eat less meat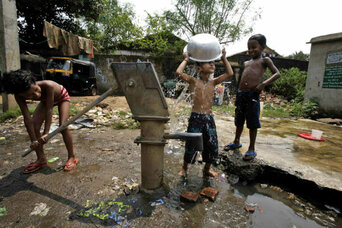 According to the United Nations Food and Agriculture Foundation, it takes nearly 10 times as much water to produce a kilogram of beef as it does to produce the same amount of wheat. Switching from a meat-centered weekly menu to a diet rich in vegetables and grains could save 2,500 liters of water a day. Choosing grass-fed meat can also save water because pasture requires less irrigation than feed crops to maintain.
Danielle Nierenberg is a food and agriculture expert and co-founder of Food Tank: The Food Think Tank.
Steam veggies instead of boiling them
In general, steaming vegetables uses less water than boiling, and according to a study in the Journal of Food Quality, it is more nutritious. For example, boiling corn on the cob in a large pot may use six to eight quarts of water, whereas steaming only uses one to two quarts. If you must boil, save the water for your garden, soup stock, or use it to help clean pots.
Provide support for small-scale, family farms
Agricultural subsidies in the US disproportionately support large-scale agribusinesses over the small-scale producers that are more likely to be engaged in sustainable food production, and may be more challenged by drought or commodity-price fluctuations. Changes in government support services could reduce this deficit and improve food and water security.
Streamline water use in home gardens
During the summer months, the US Environmental Protection Agency reports that nearly 40 percent of household water is used for watering lawns and gardens. National Geographic suggests incorporating native plants into your garden that are adapted to the local climate and often require less water.
Manually watering plants, instead of using automatic sprinklers, cuts water use by 33 percent, according to a report by the EPA. Consumers can also buy self-watering planters, or use rain barrels that can save them up to 1,300 gallons of water.
Reduce food – and water – waste
The UN Food and Agriculture Organization reports that nearly one third of all food produced for human consumption is wasted throughout production, storage, transportation, consumption, and disposal. Water is an essential input in food production, and when we throw away food, we're also wasting water. Eleven trillion gallons of water is lost to food waste annually in the US. This is the equivalent of about 16.6 million Olympic-sized swimming pools.
According to a report by the NRDC, eliminating food waste would save a quarter of all freshwater used in the US each year. Learn about your food's shelf life and how long you can store food in your freezer. Other ways to reduce food waste are only buying what you plan to eat, using leftovers to create new meals, or donating food you can't use to soup kitchens.
It's more important than ever that on this World Water Day, Americans find ways to save every drop.
Danielle Nierenberg is a food and agriculture expert and co-founder of Food Tank: The Food Think Tank.