1.Reduce carbon pollution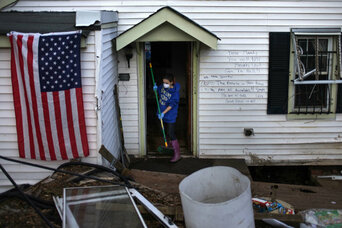 There is an urgent need to reduce the carbon pollution that is affecting Earth's climate. Storms, floods, and other natural hazards will only worsen as our changing climate increases the probability of extreme weather events. While no single weather event can be tied conclusively to global warming, most scientists agree that rising temperatures are contributing to a pattern of longer and more frequent heat waves and droughts, and more intense storms.
Add sea-level rise to the picture and the outlook grows even worse. If we don't take steps right now to reduce the rate of climate change, other measures to lessen the impacts of recurring disasters will become either ineffective or impossibly expensive.
Development must restore natural infrastructure
We must rethink the way we reduce and manage the risks to our vulnerable coastal and river communities. As New York Gov. Andrew Cuomo said, "We have a new reality when it comes to these weather patterns." He called for not only rebuilding the city, but using this opportunity to "build it back smarter."
What would "smarter" development look like?
In some places like lower Manhattan, engineered solutions – levees and seawalls – may well be necessary. Such structures have saved countless lives and reduced property damage in many communities across this country.
When it comes to protecting lives and property, shouldn't we use every tool available? As New York, New Jersey, the Caribbean, and other areas affected by Sandy begin the rebuilding process, one of their smartest investments may be in protecting, enhancing, and restoring the natural systems that provide a first line of defense against natural hazards.
Nature can and should play an important role alongside engineered solutions. Natural infrastructure such as oyster reefs, healthy salt marshes, and intact sand dunes help reduce wave intensity and moderate the impacts on shorelines from flooding and erosion. Further inland, wetlands soak up excess water, helping to protect downstream communities from floods and filtering harmful agricultural runoff. And forested watersheds slow the rush of storm water heading downstream.
A good example of this approach is Cape May, N.J., where three communities have banded together to restore coastal dunes and wetlands to reduce flooding. While at the center of Sandy, this restored beach and wetland system appears to have spared the nearby communities from the kind of flooding they experienced before the restoration was completed.
Nature and man-made systems can cooperate
Nature can also work in conjunction with man-made structures to enhance their effectiveness and reduce their costs. In Louisiana, stabilized and restored wetlands are seen as an essential first line of defense from Gulf of Mexico storms even though the levees protecting New Orleans have been strengthened. In New York City, the "Redesigning the Edge" project being supported by the Metropolitan Waterfront Alliance and others is looking at ways to combine built and natural infrastructure to reduce flooding and to create more usable open space along the city's waterways.
And of course natural infrastructure provides other important benefits, too – from wildlife habitat and tourism, to healthy fisheries and clean water.
Use data to decide where and how to build
Sandy underscores the need to be careful in how and where we build – and rebuild – along our coasts. Governments, businesses, and communities need to make planning for future storms and climate risks – and investing in natural infrastructure – part of business as usual.
Take Long Island Sound, for example, one of the most densely populated coastal areas in the US. There, local zoning drives development decisions that are expected to last for decades – but future conditions may be radically different. New tools, however, can project the potential impacts of storm surge and sea-level rise, show what infrastructure is at risk, indicate where natural defenses like marshes may play a role in absorbing flood waters, and suggest how and where development might be sited and designed to be more resilient to storms. With the right information, communities can make smart decisions about where to build – and where to leave nature intact.
Conservation groups like The Nature Conservancy stand ready to help government agencies, other decisionmakers, and the private sector better understand where natural solutions will have the strongest and most cost-effective impact on reducing natural-disaster risk. Conservation and restoration efforts must be increasingly focused near people and development, not just in remote and pristine places.
Storms like Sandy will cause damage, and risk reduction requires multiple solutions and diverse partnerships. But it's now clear that by focusing on the links between climate change, natural-disaster risk, conservation, and smart engineering and planning, we can more effectively protect both our planet's natural systems and the people who depend on them.
Mark Tercek is the CEO and president of The Nature Conservancy, the world's largest environmental NGO. His book with coauthor Jonathan Adams, "Nature's Fortune: Why Saving the Environment is the Smartest Investment We Can Make," will be published in the spring of 2013.