1.Be met at the airport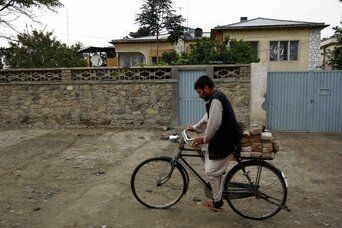 The changes at Kabul airport over the past decade have been dramatic. Things actually run quite smoothly now, with luggage arriving on the conveyor belt and a relatively efficient immigration service, all computerized, dealing with your entry.
But you don't want to be standing outside the airport alone. Make sure your guest house or office has sent a car to pick you up. Or catch a ride from one of the Western aid workers or journalists on the plane with you.
To move around Kabul, walk
Many internationals never get out and about, which means they have little contact with the actual country. And if they do get out, their security details require that they travel by car.
City traffic has become so horrendous that you're better off walking. Not losing touch with Afghanistan is vital, so we regularly stroll from our guesthouses or homes to visit the bazaar or go to meetings, but we vary the time and routes. Pay attention to passersby or lingering vehicles.
Remain alert and get to know Afghans in your neighborhood, such as local shopkeepers or street kids. They're your best protection, so strike up conversations with them. Or have a shave at the local barbershop. That's another good way to talk. On several occasions, our street friends have warned us about suspicious strangers.
You might take a taxi at night. Several taxi services in Kabul specialize in quality transportation for foreigners. They're reliable and can come in a matter of minutes. Some of us prefer to walk back at night by changing routes, and keeping in the shadows. We feel safer than traveling in a vehicle with armed guards.
Drink tea with the locals
Explain who you are, what you are doing, and why you wish to work with this particular village or district. Don't hesitate to overdo the greetings, including raising your right hand to your heart, a gesture of affinity and peace. And be prepared to drink lots of tea. Eventually, if you make a positive impact, these will be the people who will watch your back. And you will be surprised how fast word travels.
Money isn't everything
Money doesn't imply value. Don't throw money at a project or base your success on the amount of funds you can spend. Otherwise, you will be perceived as a sucker's source for new wealth. Strive to be a partner instead and be frugal about your budget.
Too many Afghans, particularly those with privileged contacts, regard the international community as a gravy train to be exploited while it lasts. Focus on those Afghans who are serious about really helping their communities. Pay attention, too, to their ethnic or tribal background, family ties, and so on. It's important to understand who is who.
Road trip! But be careful
While many foreigners working in Afghanistan seek to fly whenever possible, there is nothing like a road trip to keep in touch with one's surroundings.
Some routes are simply too dangerous to travel, such as the road from Kabul to Kandahar, in the south. If you're planning to head out on a safer route, take precautions.
Never tell anyone outside your circle what time you plan to leave. Be vague, yet keep those you trust informed, and confirm safe arrival. Leave early in the morning, when there is the most traffic. Take a battered-looking vehicle. Make sure your driver is trusted and, if possible, a relative of any Afghans you work with. This places the responsibility for your security on their families. Don't linger along the way. Don't take the bus.
Use a combo mobile/satellite phone
Mobile phones cover almost 90 percent of the country and are transforming cultural habits. For security purposes, it is worthwhile having a Thuraya satellite phone, which can switch from mobile to satellite uplinks depending on signals. You don't want to be stuck in a mountainous or desert part of the country without any form of phone access.
If you come with an American or European phone, be prepared to pay exorbitant roaming charges.
Even the poorest Afghan seems to have a phone these days. Text messaging is the most popular form of communication because it's cheap, and to save money, many wait to be called. Every self-respecting Afghan has an email address even if no actual computer. Internet cafes exist in most towns.
Soldiers and mercenaries take note
The sad reality is that NATO-led coalition troops (and increasingly aid workers, too) are broadly perceived as the new occupiers by Afghans, even by those who initially welcomed the US-led intervention in 2001.
Make an effort to better understand Afghanistan. Read about the place. Try to learn the Afghans' language and eat their food. Try not to talk about the "enemy" as if the armed opposition were all one and the same. Some are foreign-backed insurgents, but most are ordinary Afghans who oppose the international forces for diverse reasons, such as the killing of a family member.
Improve basic behavior. Don't "bead" rifles on civilians while in convoy, shout verbal abuse, or aim guns at crowds while shoving forward in traffic. And lose the shades. Showing your eyes makes you more human.
Dress regs for women
Life has improved in many ways for women, particularly in urban centers. They can walk around public areas without cover, although almost always with at least a discreet head shawl. Nevertheless, male bastions of tradition more hardline than the Taliban remain in many parts of the government. Some advice:
Do not try to be too "Afghan" or you may be treated accordingly. Dress conservatively, but look recognizably Western. Avoid wearing figure-hugging or revealing clothes. Ordinary loose-fitting Western dresses and below-the-knee skirts can be worn with loose trousers underneath to cover legs, calves, and ankles.
In public, cover your head and chest discreetly with a long shawl or chador, but there is no need to overdo it. In general, dress more conservatively in rural areas. You can dress more Western in the "international" spaces of Kabul and other towns.
Edward Girardet, a former correspondent of The Christian Science Monitor, is editorial director of The Essential Field Guide series and a co-founder of the Institute for Media and Global Governance. His latest book: is "Killing the Cranes – A Reporter's Journey through Three Decades of War in Afghanistan."