1.Honda Civic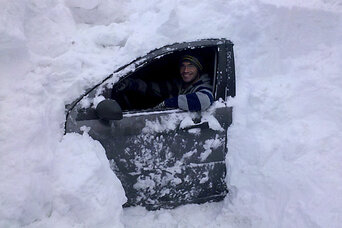 Vintage: Any
Price Range: $1,000 (late 1980s) to $10,000 (mid-2000s)
The Honda Civic is perennially crowned one of the best value cars available to consumers. Tidy design, user-friendly interface, and ease of repair make this a great car for back to school car and one of the most practical vehicles you can buy at this price point. The Civic can be had as a coupe, sedan, or hatchback in a few different trim levels. The DX models will be cheapest with crank windows and no air conditioning, though you may be more interested in "EX" range-toppers that generally feature better brakes. Major body style changes came in 1992, 1996, 2001, and 2006 – look for one of these model years to get the best price on the design you favor.
It's best to have a mechanic give the once-over (usually $30-$50) to your potential Civic or any of the models on this list. Cars at this price point could be hiding some major malfunctions that an untrained eye might miss. That said, don't get too hung up on mileage as these cars should last straight into the 200,000-mile range as long as they've been maintained and manage to avoid rust.
Parents will like: Ease and infrequency of required maintenance, reputation of reliability.
Students will like: Ease of use, having the same car as their friends.
Downsides: Not the car for you if your goal is to stand out from the crowd in a typical school parking lot.
Mercedes-Benz 220D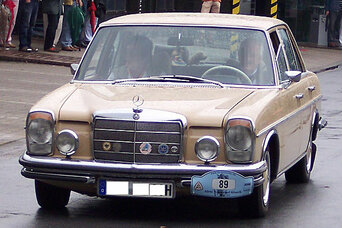 Vintage: Late 1970s to mid-1980s
Price Range: $1,000 to $4,000
Best-known nowadays as candidates for biodiesel conversions, Reagan-era Benzes are some of the best car-for-dollar options for those who recognize and value the cachet they carry. They may be primitive, but diesel-burning Mercedes engines are considered bulletproof, and the heavy bodies they propel have enjoyed the same reputation as the car of choice for diplomats and war-zone political figures. If you can avoid the onset of rust with frequent winter washes, a diesel Mercedes will probably survive to be passed down to yet another generation after your family is through with it. Besides, everyone can appreciate that star hood ornament reassuringly guiding them along the road.
It's important for new drivers to realize the performance limitations of older cars, whether it's a vintage Mercedes or any of the other cars listed here. If your learner's permit hours were racked up driving your father's late model Acura, you may not consider how differently the brakes on a mid-1990s sedan are going to respond. New drivers must take the time to familiarize themselves with their own vehicle before venturing into the unforgiving fray of traffic, for the sake of themselves and others.
Parents will like: The innate safety of sluggishness, the proven safety of solid steel.
Students will like: Cachet, fuel economy (diesel), simple enough to teach yourself to repair.
Downsides: Lack of pace and somewhat brutish driver feedback may lose its charm for those who don't have an affinity for the analog lifestyle.
– The original photo can be found here on Wikimedia Commons.
Acura Integra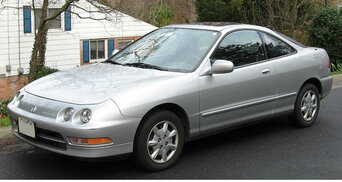 Vintage: Early 1990s to 2001
Price Range: $1,000 to $6,000
Acura's entry-level coupe essentially boils down to a sleeker incarnation of the Honda Civic. Endowed with a slightly gutsier engine than its Honda-badged counterpart, the Integra feels a bit more grown-up while retaining the spritely personality so essential to cars in the sport compact market. It's easy to find an Integra with a sunroof or even leather seats, making it one of the best-optioned used cars at its price point. Look for one built in or after 1998 for the sleekest styling, or prior to 1994 for the cheapest cost of entry.
Parents will like: Reputation of brand, they can always drive it to work if their own car is laid up for repairs.
Students will like: Styling, fun-factor behind the wheel.
Downsides: Even the four-door version is on the small side.
– The original photo can be found here on Wikimedia Commons.
BMW 3-Series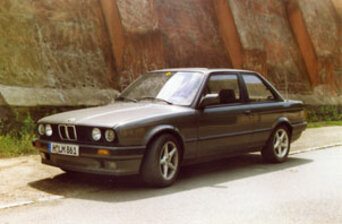 Vintage: Late 1980s to early 1990s
Price Range: $2,000 to $6,000
Parents may remember these original "hip-to-be-square" BMWs as the rolling embodiment of the decade of greed. However, reasonable ownership costs, sharp (but not too sharp) performance, and timeless styling have kept this car relevant among enthusiasts and budget-conscious car buyers alike.
The 3-Series really is an all-around great car, and for a student who enjoys and appreciates automobiles, forget that flat-black Camaro, this Bimmer is the best place to spend that summer job money.
Be wary of cheap and tattered examples. As with all second- or third-hand European autos, it's worth paying a premium for one that's been cared for. Make sure the seller has some service records for the car, or at least get a specialist mechanic's opinion.
Parents will like: If it doesn't start, at least it will still look good in the driveway.
Students will like: Come on, dad … it's a Bimmer!
Downsides: Not the easiest machine to control in rough weather, and will become unreliable quickly if routine maintenance is overlooked.
– The original photo can be found here on Wikimedia Commons.
Ford Focus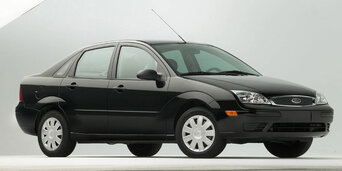 Vintage: Early 2000s to present
Price Range: $2,000 (older) to $9,500 (2008)
Cheaper than comparable compacts from Honda and Toyota, the Focus is a solid offering for the truly budget-focused (no pun intended) buyer. Older models are a bit clunky sounding due to primative suspension, but they're cheap to buy and any gas station mechanic can get one fixed for you. The bare-bones nature of the Focus leaves less to break, and less weight to burden your fuel-sipping engine. Focuses built after the major redesign of 2008 command a slight premium, but can still be had for under $10,000.
Parents will like: Inexpensive.
Students will like: Inexpensive.
Downsides: Well … cheap.
Toyota 4Runner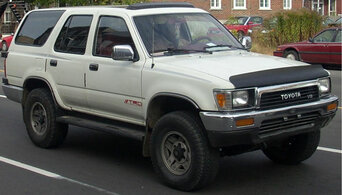 Vintage: Early 1990s
Price Range: $4,000 to $7,000
If dirt roads, backcountry excursions, and weekend sporting trips are part of your regularly scheduled programming, an inexpensive 4x4 like the 4Runner might be the best way to go. A '90s 4Runner has the best cargo capacity and off-road prowess at this price, save the Land Rover Discovery – which is more expensive than every car on this list combined in terms of total cost of ownership. Ample supply of parts, legitimate low-range equipped transmission, and a large cult following make the 4Runner a solid choice if you're heading into the wild on a budget.
Parents will like: Reputation for reliability, safe transport in bad weather.
Students will like: Take it skiing, take it to the beach,
Downsides: A 4x4 driveline coupled with an older engine means poor fuel economy, which becomes annoying if you don't find yourself using the truck's capabilities very often.
– The original photo can be found here on Wikimedia Commons.
Ford Escape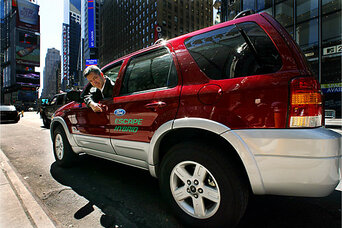 Vintage: Mid-2000s
Price Range: $4,000 to $7,000
For those who want the spaciousness of an SUV but don't need rough-and-tumble off-road capabilities, consider the smallest four-wheel-drive in Ford's lineup.
The Escape swallows heaps of luggage while still managing over 20 miles per gallon in mixed driving. If you pay a few extra grand, you could nab a hybrid model, which can pull off up to 30 m.p.g. That might be worth it if you're in an urban center, where gas bills add up quick.
Parents will like: Not having to lend kids their own car for transporting the team/band/tri-fold cardboard posters.
Students will like: Room for sports gear, guitars, and IKEA furniture without excessive fuel requirements.
Downsides: Interior build-quality leaves something to be desired. Poky little engine harnessed by a 4WD transmission makes aggressive highway merges impossible.
Subaru Impreza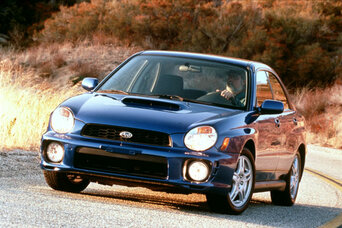 Vintage: Any
Price Range: $1,500 (early 1990s) to $8,000 (early 2000s)
Excluding the road-eating turbocharged WRX variant, the Subaru Impreza is a modest automobile that's gained incredible popularity in the snowier regions of the United States. Thanks to Subaru's hallmark all-wheel-drive system, Imprezas are known to get their passengers through snow, ice, torrential rain, and whatever else may be between them and the ski resort they're invariably heading to.
Inoffensive styling, a solid track record of reliability, and reasonable cargo space (especially in the wagon) have earned the Impreza a place in the hearts of frugal drivers everywhere conditions get bad. If snow is a significant part of your commute, it's hard to beat any vintage of this car.
Parents will like: Safety of all-wheel-drive.
Students will like: Unstoppable nature of all-wheel-drive
Downsides: Not very fuel efficient considering its size, thanks to (you guessed it) all-wheel-drive.
Toyota Tacoma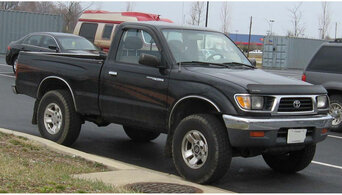 Vintage: Mid-1990s
Price Range: $2,000 to $6,000 (largely variable depending on condition)
Though not the most practical choice for everybody, some drivers will prefer the cargo-biased nature of a pickup. And as far as longevity in class goes, the Tacoma rules the roost. Though hardly the cheapest pickup from this era, the Tacoma will pay back its owners with years of service. Solid build quality and ease of use make it the best budget pickup for the young tradesman. For those planning to drive in winter, it's best to opt for a 4x4 version – or learn to mount tire chains.
Parents will like: Borrowing it to pick up mulch from Home Depot.
Students will like: Being the king of the next tailgate party.
Downsides: A pickup truck isn't all that versatile if you live in a place where carrying passengers in the cargo bed is frowned upon. They're also somewhat unwieldy to drive in bad weather.
– The original photo can be found here on Wikimedia Commons.