1.'Fear the brow' - Anthony Davis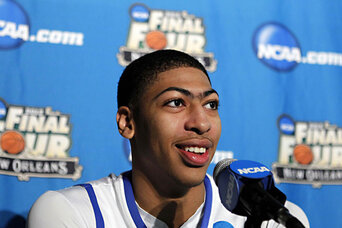 Anthony Davis' eyebrows have gone pro. During the NCAA tournament last March, the most famous unibrow since Bert's on "Sesame Street" struck fear in the hearts of every team who faced Davis and the formidable Kentucky Wildcats. Davis won the NCAA Tournament Outstanding Player Award, and the Wildcats cruised to a national title. He then immediately declared himself eligible for the 2012 NBA Draft, becoming a virtual lock as the first overall pick for the New Orleans Hornets.
And now his trademark north-of–the-nose facial hair is, literally, trademarked. Earlier this month, Davis filed paperwork with the United States Patent and Trademark Office for exclusive rights to the phrases, "Fear the brow," and "Raise the brow."
Davis unibrow merchandise isn't anything new: During the NCAA tournament, "Fear the brow" T-shirts became a common sight in Wildcat crowds, though merchandise featuring Davis's name or number was forbidden because of his student status. But now, Davis can enjoy the financial rewards from keeping his brow thick and full. The only losers here: tweezers manufacturers looking for a celebrity spokesman.
If the trademark is approved, Davis retains the rights to royalties from any company that uses his unibrow on retail merchandise. While licensing a catchphrase can seem like sheer vanity on the surface, it's a smart earnings move for athletes, who have a limited window of fame and playing time in which to make money.
"That's a clown question, bro." - Bryce Harper
Regardless of your feelings on the Washington Nationals, baseball in general, or mohawk mullets, it's hard not to have a blast watching Bryce Harper. Since making his MLB debut on April 28, the 19-year-old rookie outfielder has entertained equally with his on the field hustle and his extracurricular antics. All signs point to him eventually becoming one of the best outfielders in recent memory, but his youth, unfettered enthusiasm, and temper have allowed us a few exasperated chuckles along the way. For instance, in the span of just one week Harper awed a home crowd by stealing home base, and also struck out and threw his bat against a clubhouse wall so hard that it bounced back and clocked him in the face, requiring 10 stitches. A few days before that, he high-fived teammate Mark de Rosa so hard that de Rosa re-aggravated an existing injury. Oh, Bryce Harper.
It was only a matter of time before such a huge personality had his own catchphrase. It came a few weeks ago, when Harper answered a reporter's question he didn't want to answer with the response, "That's a clown question, bro."
Just like that, a meme was born. Harper's response became the top trending on Twitter. The Associated Press wrote their own briefing on the comeback. "Clown question" t-shirts materialized instantly. Senate majority leader Harry Reid invoked it to a reporter in response to a question about Mitt Romney and immigration. Harper, meanwhile, trademarked the phrase within 24 hours. It now appears on authorized Under Armour t-shirts.
"Linsanity" - Jeremy Lin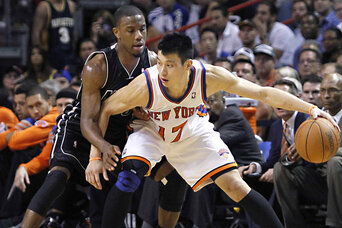 Jeremy Lin and his marketing team laid official claim to "Linsanity" a mere five games into the point guard's improbable run with the New York Knicks, according to The New York Times. It was fast, but he wasn't the first. All manner of "Linsanity" merchandise, from t-shirts to coffee mugs, started cropping up within a week of the point guard's explosion onto the NBA scene, and at least five other parties filed "Linsanity" trademark requests around the same time. Lin, the first Asian-American to play in the NBA, also has "Linsanity" trademark requests pending in China, Taiwan, and Hong Kong, where he is enormously popular.
"Tebowing" - Tim Tebow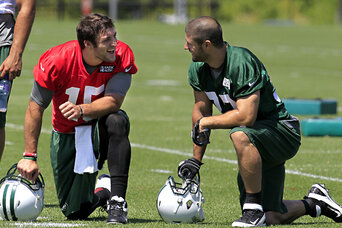 The "Tebowing" pose became so ubiquitous for a few months last winter that it's easy to forget where it started – tebowing.com, a website started by real estate agent and Tebow fan Jared Kleinstein after one of Tebow's patented come-from-behind victories during his stint quarterbacking the Denver Broncos. Kleinstein filed a trademark request on "Tebowing" nearly two months before the quarterback, but his request was denied because he has no relation to Tebow.
The Tebow copyright battles didn't end there. Shortly after Tebow signed with the New York Jets, Nike and Reebok took to federal court over which company had the right to sell Tebow Jets merchandise. In May, Tebow's lawyers sent a cease and desist letter to a shirt company manufacturing shirts featuring a refashioned Jets logo with the words "My Jesus," in place of "NY Jets." The NFL followed with its own cease and desist letter to the company for infringing on an NFL logo.
"Three-peat" - Pat Riley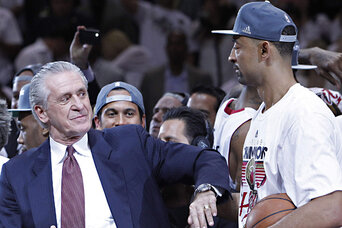 Every time a team wins three uninterrupted titles and wants to commemorate that achievement in t-shirt form, Pat Riley gets paid. The NBA coaching great registered the trademark for "three-peat" and its less formal sibling, "3-peat," in 1988, when his Los Angeles Lakers had won two NBA championships in a row and were gunning for a third. The Lakers ultimately lost in the finals, but Michael Jordan's Chicago Bulls achieved the three-peat a few years later, in 1993 . Riley pocketed an estimated $300,000 from royalties when the NBA used "Three-peat" on subsequent Bulls championship merchandise. He also cashed in on the 1998 Bulls three-peat, as well as triple title runs by the New York Yankees and the Los Angeles Lakers. Riley is now president of the Miami Heat, who were recently crowned NBA champions. With any luck, Riley could be celebrating (and cashing in on) a three-peat of his own in a few years.