1.Interning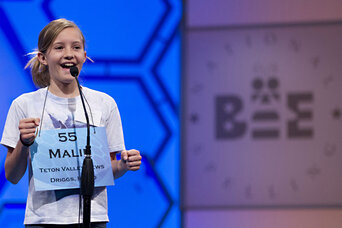 Year: 1936
Champion: Jean Trowbridge (Des Moines, Iowa)
Definition: (n.) The present participle of intern, which can mean, 1) to imprison someone without trial, 2) to internalize, or 3) to work as an intern, usually with little or no pay or other legal prerogatives of employment, for the purpose of furthering a program of education.
This third definition is the most common usage today, especially among ambitious high school and college kids. Back in 1936, however, it's unlikely that the word "interning" brought to mind wide-eyed workplace hopefuls enthusiastically running to the Xerox machine. Many winning National Spelling Bee words, especially from the early years, are common parlance today, though they likely weren't at the time. It's highly possible that Jean Trowbridge had never even heard the word "interning."
Used in a Business page sentence: Interning at a major fashion magazine can be a great opportunity for experience, but not so much for earning actual money.
Meticulosity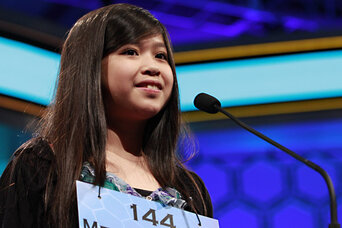 Year: 1950
Champion: Diana Reynard (Cleveland), Colquitt Dean (Atlanta). The two were named co-champions after exhausting the list of possible words.
Definition: (n.) the state or quality of being very precise, conscientious, and attentive to detail.
Used in a Business page sentence: Warren Buffett's meticulosity in his investment decisions is one of the reasons he is a billionaire.
Condominium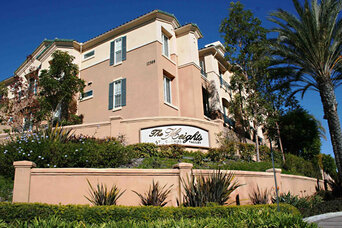 Year: 1956
Champion: Melody Sachko (Pittsburgh)
Definition: (n.) 1) A building in which each unit is owned by an individual, but the entire structure and grounds are owned jointly. 2) A unit within such a building. Often shortened to "condo."
Used in a Business page sentence: Condominium prices weren't spared in the housing crisis, though there are signs of recovery in some of the harder hit areas of the country, like south Florida.
Sycophant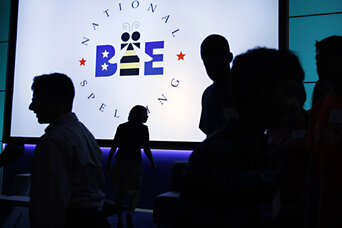 Year: 1964
Champion: William Kerek (Akron, Ohio)
Definition: (n.) 1) A person who uses compliments or flattery to gain self-serving favor or advantage from another. 2) A person who seeks to gain through the powerful or influential.
Used in a Business page sentence: If that major financial firm hadn't been full of sycophants, maybe the CEO wouldn't have run it into the ground [opinion blog].
Croissant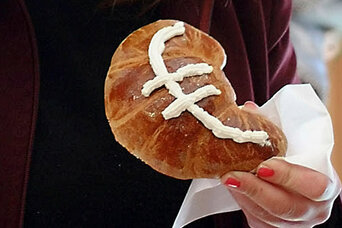 Year: 1970
Champion: Libby Childress (Winston-Salem, N.C.)
Definition: (n.) A flaky, crescent-shaped roll
Used in a Business page sentence: Dunkin' Donuts has introduced a seaweed-filled croissant, available only in the chain's Tokyo locations.
Cambist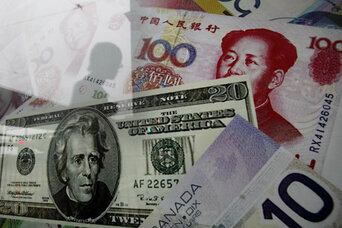 Year: 1977
Champion: John Paola (Pittsburgh)
Definition: (n.) 1) a money-changer or broker; a person who is skilled in the science and practice of monetary exchange. 2) A table or manual giving the exchange values of moneys, weights, and measures of various countries.
Used in a Business Page sentence: Last year's cambist is out of date, now that the euro has fallen so dramatically.
Maculature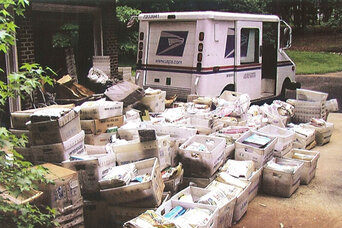 Year: 1979
Champion: Katie Kerwin (Denver)
Definition: 1) Blotting paper. 2) Paper waste; printed materials not intended for reading; junk mail.
Used in a Business page sentence: Unsubscribing from retail mailing lists will cut down on maculature and save the US Postal Service a few much-needed extra bucks.
Milieu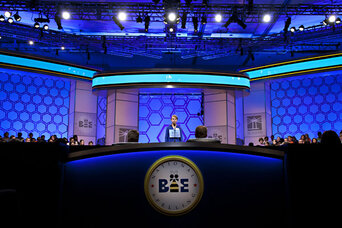 Year: 1985
Champion: Balu Natarajan (Chicago)
Definition: (n.) a person's environment or social setting
Used in a Business page sentence: Mitt Romney's childhood milieu may have helped him become a successful businessman and politician.
Fibranne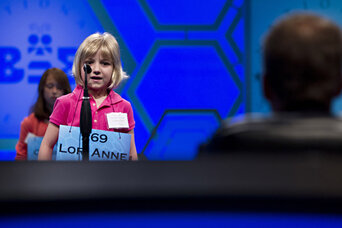 Year: 1990
Champion: Amy Marie Dimak (Seattle)
Definition: (n.) a linen-like fabric made of rayon.
Used in a Business page sentence: The clothing retailer, which offers a line of low-cost garments made chiefly of fibranne, released a better than expected earnings report for the first quarter of 2012, boosting company stock.
Logorrhea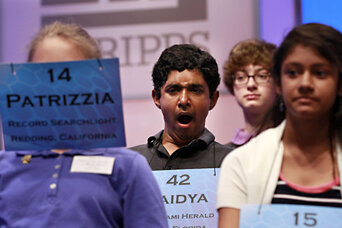 Year: 1999
Champion: Nupur Lala (Tampa, Fla.)
Definition: (n.) excessive talkativeness
Used in a Business page sentence: Some decried Greg Smith's New York Times-published resignation letter from Goldman Sachs as mere logorrhea, while others saw it as a much-needed wake up call for a company with an integrity problem.