1.Dining out
A full-service meal away from home has risen 2.9 percent in price over the year that ended in December. That's just below the overall rate of consumer price inflation, which was 3 percent. But over the past decade, full-service meals have gone up just a bit more than overall inflation, which totaled 27.8 percent for the 10-year period.
By the way, the BLS doesn't give average prices in dollar figures. So a reminder of the obvious: The meal will cost more at Chicago's Alinea Restaurant than at Applebee's, and there are lots of options in between.
2.Buying candy
The BLS doesn't track a separate category for chocolate, but prices are up 3.8 percent over the past year in its "sugar and sweets" category. For the past decade, the category is up 34 percent.
3.Buying jewelry
Yes, the price of metals like gold and silver has essentially doubled in the past four years. But that's just part of the cost of jewelry (which also includes labor and retailer overhead). On average, the price of items like necklaces, rings, and earrings has been up 7.8 percent in the past year and 28.5 percent for the past decade. The rise of online competition for retailers is one factor that has kept prices from rising more.
4.Having cards or gifts delivered
If you're mailing cards or gifts, rather than hand-delivering, the price of that service has been rising. This is not a surprise to many who have been shrewdly buying Forever stamps from the US Postal Service over the years.
But there may be a surprise in that the pace of increase hasn't been that different from the overall inflation rate. Over the past year, the price change for "postage and delivery" services is 4.3 percent, although the 10-year change is about 41 percent. (The price hikes for a first-class stamp have actually been slightly smaller than that, for both the year and the decade.)
5.Buying flowers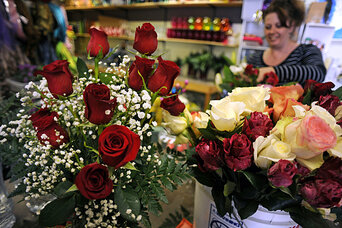 The BLS doesn't have a separate category for floral arrangements, or for roses, but a category called "indoor plants and flowers" shows inflation of 1.3 percent over the past year and 7 percent for the past decade.
So there you have it.
The price of romance seems to be rising, but maybe not as fast as you think. And remember the potential benefits.
The National Marriage Project, a research effort based at the University of Virginia, has released a "Date Night Opportunity" report touting the benefits that couples can reap from something like a night out – not just on Valentine's Day, but regularly.
The group says that "couples who manage to devote time specifically to one another at least once a week are markedly more likely to enjoy high-quality relationships and lower divorce rates."