6.Volkswagen weight-watching dog (2012)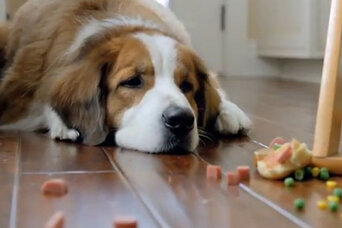 Super Bowl XLVI was yet another big year for ad animals: There was a speedy Skechers-wearing French bulldog, office chimpanzees pitching for careerbuilder.com, and yet another dog with a special talent for serving Bud Lite at parties (that ad did end with a plug for adopting rescue dogs – a nice touch).
But our favorite animal ad this year came from Volkswagen, and this portly canine who resolves to get himself in shape so he can fit through his doggie door and chase the new VW bug . After delivering arguably the most successful Super Bowl commercial of 2011 with "Little Darth Vader," expectations for Volkswagen were high, and the company delivered nicely with this ad.
Doritos pug (2011)
This ad was the first winner of Doritos' "Crash the Super Bowl" contest, in which aspiring ad-makers uploaded their own commercials to the Doritos website for a shot to appear during the Super Bowl. Utah native JR Burningham made the commercial for $500, and he walked away with $1 million in prize money.
Bridgestone squirrel and friends (2008)
A squirrel crossing is saved by the superior braking and turning capability of Bridgestone tires, to the relief of his panicked animal friends. The "squirrel in the road" commercial genre has become a little tired since this spot debuted in 2008, but it was one of the highlights of that year's Super Bowl ad crop. Extra points for extensive animal diversity.
Tabasco mosquito (1998)
Simple, highly memorable, and an effective showcasing of the product: There's no way you can think of this ad without thinking of Tabsco hot sauce. This commercial is just as funny as it was 14 years ago, and it turned an entire generation onto the wonders of pizza and hot sauce.
EDS herding cats (2000)
Most people probably have no clue what Electronic Data Systems (EDS) does (data-processing management. Nor do they remember that the company (now HP Enterprise Services) is responsible for one of the greatest Super Bowl ads ever made. But they probably remember the ad itself. Grizzled cowboys wax poetic about the rough world of cat herding to the strains of a sweeping Ol' West-style score. They sit around a campfire, rolling up balls of yarn, going over their clothes with lint rollers, and proudly displaying the kitty scratches they got along the way. Cats, in general, are funny; an aerial shot of hordes of cats being herded across a prairie river is iconic.
Budweiser Clydesdales playing football (1996)
The Budweiser Clydesdale horses are among the most long-running, storied ad franchises of the Super Bowl. Everyone has their favorites, from the donkey that wants to be a part of the Clydesdale team to the friendship of the Clydesdale foal and the baby bull. This 1996 spot of the horses playing football is our favorite, managing to be both funny and majestic at the same time. Like "herding cats" it makes great comic use of deadpan, world-weary cowboys: "They always do that?" one asks, after a Clydesdale kicks the ball through a pair of upright power lines.
"Nah," says the other. "They usually go for two."