1.H&M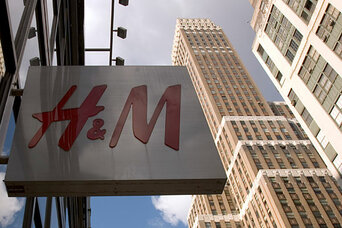 Since opening its first US location on Manhattan's Fifth avenue in 2000, the Stockholm-based chain has expanded to 200 stores, trickling to places as far-flung as Winston-Salem, N.C. and Palm Beach Gardens, Fla. The company, which offers a broader, cheaper, (and arguably younger) selection than Gap, is on track to open 256 new stores by the end of 2011, and will begin selling its wares online for the first time at the beginning of 2012. A caveat, however: despite cheap clothing offerings and increased worldwide visibility, H&M profits fell in 2010, forcing the company to slow its global expansion.
Target
The launch of the discount retailer's partnership with Italian knitwear designer Missoni crashed the Target website last month, and shoppers swept store shelves clean of Missoni items. Since launching partnerships with high-end designers back in 2002, Target has become known as much for stylish, affordable clothing as it has for the usual discount-retailer fare.
Uniqlo
The Japanese-based retailer, which describes itself as having a "broader customer base" and being "a bit more classic and tailored" than H&M, launched a planned US expansion today, October 14, with a new flagship store on Fifth Avenue in Manhattan. Lesser-known thus far in the US, Uniqlo is a direct competitor of Gap and H&M in Europe and Asia. Though the company only has two stores in the US right now, both in Manhattan, it aims to have over 200 by the year 2020.
Old Navy
Why not have Gap, for less? Unlike Gap and Banana Republic, the other store brands under the Gap, Inc. umbrella, Old Navy didn't suffer a revenue decline (though the company plans to reduce the square footage of Old Navy stores by 1 million square feet by the end of 2013).
The Web
Of course, we all might be better off if we just stop shopping in stores altogether. As we reported Wednesday, consumers could save $640 annually by shopping with Internet access, taking advantage of exclusive online coupons and closeout sites like Overstock.com. For its part, Gap Inc., wants to be a bigger player in the online game: the company is planning to greatly expand its "ship from store," model, which ships in-store stock to online customers. "Ship from store" will spread to Old Navy stores next year.