5.Omaha, Neb., 1975 – $1 billion in damage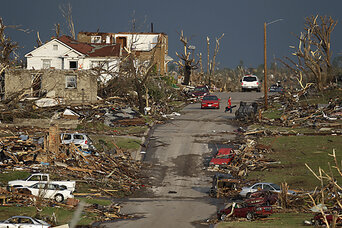 A tornado touched down for about 20 minutes on the afternoon of May 6, 1975, just south of Omaha. The tornado, which was more than 200 yards wide, left a path of about 10 miles. It moved northeast through the city, damaging residential and business areas. In all, the winds were responsible for three fatalities – and injuries to 133 people.
Xenia, Ohio, 1974 – $1.1 billion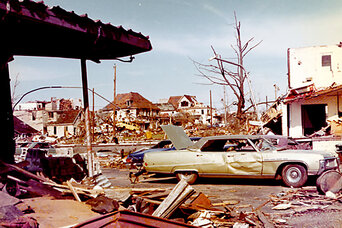 Dozens of tornadoes touched down across Ohio, Indiana, and Kentucky during the "1974 super outbreak." The tornadoes caused 159 fatalities and injured 4,145 people on April 3 and 4. The worst of the tornadoes, which bulldozed Xenia, Ohio, killed more than 30 people and injured 1,100. The twister destroyed more than 1,000 homes in the area.
Oklahoma City, Okla., 1999 – $1.5 billion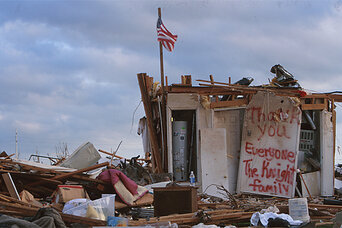 A tornado that traveled 38 miles between Chickasha, Okla., and Oklahoma City on May 3, 1999, devastated rural and urban areas of the state. The very powerful twister, rated an F5 on the Fujita scale, was on the ground for nearly an hour and a half, causing 46 fatalities and injuring 800 people. More than 8,000 homes were damaged or destroyed. The tornado was the most severe of the 74 tornadoes that touched down across Oklahoma and Kansas in less than a 21-hour window.
Lubbock, Texas, 1970 – $1.6 billion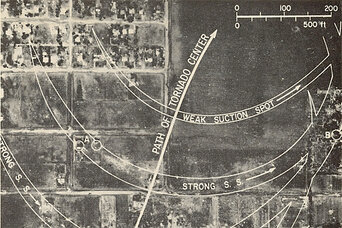 The tornado that killed 26 people in Lubbock, Texas, on May 11, 1970, was the second, and more severe, of two tornadoes to strike that evening. It touched down about 9:30 p.m., traveled northeast through the city, and lasted about half an hour. It injured more than 1,500 people. The F5 tornado was about 8.5 miles long and affected about 15 square miles of the city.
Topeka, Kan., 1966 – $2.2 billion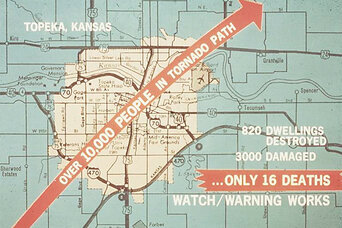 The most financially destructive tornado on record struck Topeka, Kan., at about 7 p.m. on June 8, 1966. The tornado blasted through the city, moving at about 30 miles per hour, leaving a path destruction about 22 miles long. The F5 storm was about half a mile wide. But for all its destruction to property, the twister was blamed for only 16 fatalities and injuries to about 500 people.