Groupon.com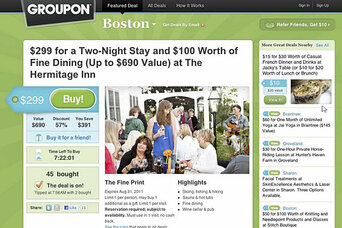 Groupon built the online group coupon model and has led the way ever since. Along with its competitors the site offers discounts of 50-70 percent off goods and services at restaurants, retail stores, spas, and travel. What the other sites don't have is $1 billion in capital investment and a valuation of up to $25 billion. Groupon has increased from 4 million unique visitors per month last year to over 20 million this year but with LivingSocial closing the gap, Groupon will need to continue their growth to hold onto the lead.
LivingSocial.com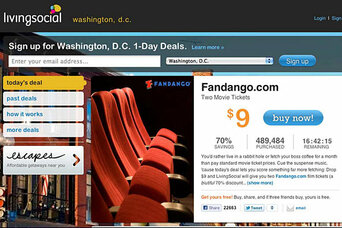 The two biggest players in the group coupon world are Groupon and LivingSocial. Though LivingSocial started before Groupon, it didn't get into the group coupon business until after Groupon and has been trying to shake the label of "Groupon clone" ever since. But LivingSocial has been closing the gap between it and Groupon and the latest valuation for the company was $3 billion having just finished a $400 million capital campaign. Their popularity has grown as well with an increase from 1 million to 9 million unique page views in the last year.
BuyWithMe.com
With the hundreds of competing group coupon sites, BuyWithMe is one who's name frequently gets mentioned as one of the leaders after Groupon and LivingSocial. The site serves multiple US cities and unlike other sites, offers more than just one coupon deal per day. While Groupon, LivingSocial, and others require a user's email address before showing that day's deal, BuyWithMe allows everyone to see the selection of coupons available without first entering personal data.
Tippr.com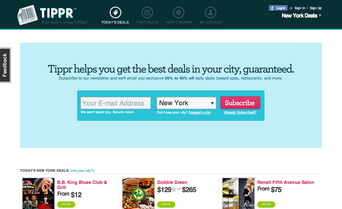 After Groupon, LivingSocial, and BuyWithMe, the ranking becomes less clear. There are over 500 such group coupon sites but Tippr is among the top contenders for your attention. In 2010, the company acquired Chitown Deals and FanForce. Tippr serves Chicago, Atlanta, Boston, New York, Seattle, Los Angeles, and Washington DC.
DealOn.com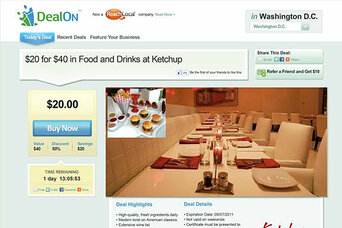 Acquired by ReachLocal in March, DealOn has garnered more attention than most of the hundreds of group coupon sites that have emerged in the last two years. DealOn serves many cities while most group coupon sites specialize in just a handful of cities, and is valued at $10 million.