New York
1.Government spending slows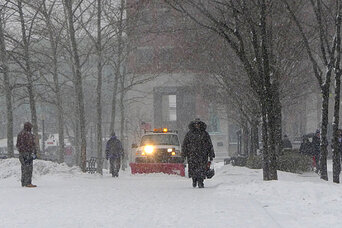 Government spending shrank sharply at the end of the year, compared with the third quarter. While the private sector grew at a robust 4.1 percent annual rate, Uncle Sam and state and local governments tightened their belts, laying off workers and cutting services.
Some of this end-of-year reduction in government expenditure can be attributed to the Department of Defense, which had run up its third-quarter spending to use allocated money by the end of the fiscal year, which is Sept. 30. "If you don't spend it, you lose it," quips David Wyss, chief economist at Standard & Poor's in New York.
But the downsizing of government is likely to continue this year. For example, in the past, Congress has sometimes approved a sizable supplemental budget to pay for things like snow removal in the District of Columbia. Now, states such as New Jersey and Connecticut are asking the feds for some help with their snow-removal budgets. But Mr. Wyss doubts that this new Congress, with many new members intent on reducing government spending, will be inclined to help them out.
Less government spending will be a bit of a drag on the economy in the coming year, says Wyss. State and local governments face tough decisions on their fiscal 2012 budgets, which begin in July.
"Is this all bad?" asks economist Bob Brusca of Fact & Opinion Economics in New York. "In the longer run we are moving resources to the much faster-growing private sector."
Inventories need replenishing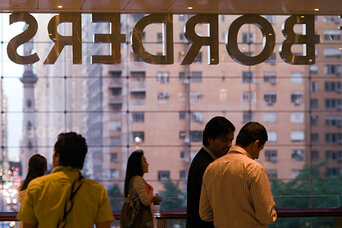 Consumer spending was much stronger than businesses expected in the fourth quarter. As a result, inventories shrank, actually reducing GDP by $114 billion compared with the prior quarter. Although retailers are anxious to see if consumer spending will remain strong, they will also have to replenish their inventories.
"That is good news for the first quarter," says Wyss, who notes that early economic reports in January indicate that the pace of manufacturing remains healthy.
Still, a lot of merchandise is likely to come from overseas. That would reverse what happened at the end of last year, when imports actually dropped while exports rose. "Imports are already beginning to rebound," says Sung Won Sohn, a professor of finance at the Smith School of Business, California State University, Channel Islands.
But some of the inventory rebuilding is made in the USA, he notes. "The auto industry is a good example. They have ramped up production," he says.
Business spending poised to leap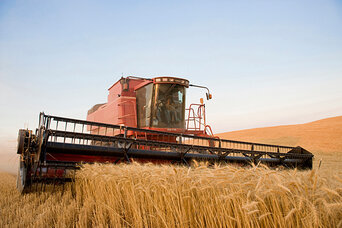 Business spending slowed at year's end, but it may well pick up this year.
One reason for the slowdown is a bottleneck in producing farm equipment, says Mr. Sohn. "People are on a waiting list for farm combines," he says. "In some cases, there are enough tractor bodies, but they can't get the huge tires."
The main reason for the boom in spending at places like Deere & Co: Corn and wheat prices are high. "Every farmer wants to replace his equipment," says Sohn.
Other business spending is expected to revive as a result of the tax package Congress passed at year's end, which allows businesses to write off 100 percent of investments made this year.
Rachelle Bernstein, tax counsel at the National Retail Federation in Washington, says she has received a lot of calls from retailers who are considering remodeling their stores as a result of the tax change. "We see a lot of investment coming from retail," she says.
High unemployment, debt are a damper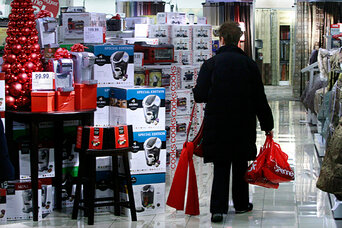 Consumers opened up their wallets more than expected, but that is not expected to continue. In the fourth quarter, consumer expenditures rose by 4.4 percent, more than Wall Street economists had anticipated, considering the relatively high unemployment rate and the rising price of gasoline. Recent surveys have found consumer sentiment recovering in part because the stock market has been buoyant.
But Sohn expects that consumers will slow their buying binge. "Income levels are not up much, and [households] continue to reduce their debt," he observes.
In addition, so far in the first quarter, consumers in the Northeast may have had difficulty getting to the mall, thanks to a series of winter storms that made driving hazardous.
Construction shows signs of life
Housing and office construction are no longer a drag on the economy. In the fourth quarter, residential construction rose by 3.8 percent, while investment in office buildings rose 0.8 percent, the first time it has risen in more than two years.
The big question is whether commercial construction will continue to revive, says Wyss. "Vacancy rates are still too high," he cautions.
However, at least the construction sector won't be a heavy anchor on the economy from this point on. "It won't be much of a help, but you take what you can here," he says.