4.The first Barbie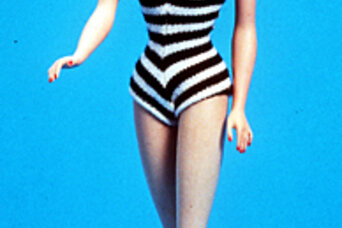 For folks that prefer the simple, less-eccentric doll: the very first Barbie.
Barbie first appeared in March 1959, produced by Mattel toy company. American businesswoman Ruth Handler gets credit for the idea. Ms. Handler was inspired by watching her daughter Barbara play with paper dolls. During a trip to Europe she found a German toy named Bild Lilli, an adult-figured doll.
The first Barbie featured a black and white zebra-striped bathing suit, a ponytail, and hoop earrings. She sold for just $3.00 at the American Toy Fair in New York City in 1959. These "first edition" Barbies are now worth $8,000.
Watch the video below of the first Barbie television commercial.
De Beers Barbie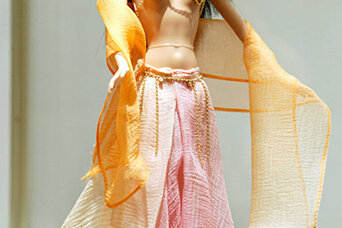 In 1999, De Beers jewelers marked Barbie's 40th anniversary with a special edition doll, wearing an evening gown that included a bikini top and belt decorated with 160 diamonds. This became the world's most expensive Barbie when she sold for $85,000.
Barbie and the Diamond Castle
Barbie and the Diamond Castle was introduced in 2008 in Mexico City. The doll, worth approximately $95,000, was not for sale but was meant as a promotion for a new Barbie movie, also named "Barbie and the Diamond Castle." According to Giancarlo Melloni, Barbie's brand manager in Mexico, the film touches on topics important to young girls: "Friendship, music and shiny jewels."
Watch a video clip from the movie below.
Canturi Barbie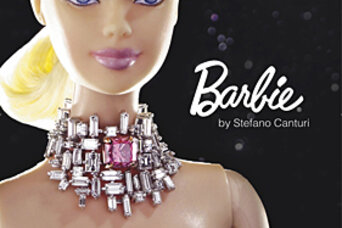 This curvy, custom-designed doll features a 1-carat pink diamond choker, created by jeweler Stefano Canturi.
Christie's auction house in New York offers her up for auction Oct. 20, according to the Associated Press.
She is expected to sell for $300,000 to $500,000.
All proceeds will benefit the Breast Cancer Research Foundation, in conjunction with breast cancer awareness this month.