1.One Summer, by JoAnn Ross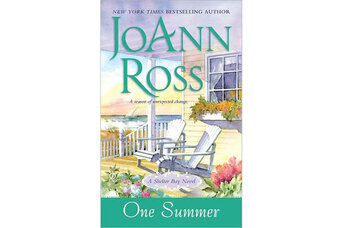 The lonely warrior is an iconic figure in American pop culture. He's the Dark Knight, the Lone Ranger, the Pale Rider, the Omega Man. He spends his time dancing with wolves and riding his horse into a moody sunset. He's hot and heroic – and lonely at the heart. And from the point of view of a feisty heroine? He's a challenge! The heroes in these five romances are channeling Clint Eastwood­ – they've chosen to right the world's wrongs rather than settle down into domestic bliss. The pleasure, of course, is watching a great man realize, in the words of JoAnn Ross's hero, that his beloved "fills a hole … I didn't even known was empty. Until I met you."
Joann Ross's One Summer is set in a small Oregon town where Marine photojournalist Gabriel St. James stops by to take wedding pictures for a friend, intending to drop back out of sight as soon as he can. Gabe has spent over ten years in war zones; he's battered and wary and determined to live a nomadic life as a photographer. Charity Tiernan is his opposite. Rather than a Vet, she's a vet, the owner of a tiny practice that also places rescue dogs. So when Gabe shows up at her door with a small, scruffy black dog, Charity decides that a decidedly unmanly pet is just what Gabe needs. This is a terrific summer read: watching the stubborn, determined Gabe open his heart not only to Charity, but a dog as well, is a true pleasure. He begins by measuring her against the war: "Kissing her was … an icy beer after days spent crawling across scorching desert sands." But he ends by realizing he cares for Charity for herself, and it's a short step from there to a promise that beats Semper fi: "I'll spend the rest of our lives trying to make you never cry again."
Bayou Moon, by Ilona Andrews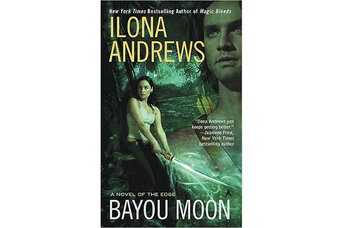 The hero of Ilona Andrews's Bayou Moon is also a soldier, but the battles he fights take place in an alternative reality. In the Edge series, Andrews has created an utterly intriguing and creative fantasy world, in which there's a border (the "Edge") between the mundane world of Walmart and the magic world of the "Weird." Cerise Mar and her family live in the Edge swamplands. William, Lord Sandine, is a former soldier, a battered and tired sometime nobleman – and a changeling. When the Secret Service asks for him help in catching a truly loathsome mass murderer named, he can't say no. William has no family and no ties; he convinced that family isn't for people like him, those who can turn into wolves. Cerise has too much family, most of them insane, and an 80-year feud with another Edge clan. It's not easy for Cerise to fall for a man whose very nature is despised in her world: "He was everything she could ever want in a man: smart, strong, funny, handsome, a hell of a fighter … and he turned into a monster." Even when she makes up her mind, she has to woo a loner, a man unused to communicating on an emotional level. But once a loner is in love, loyalty is one of his strongest characteristics: "If she vanished," William thinks, "he would spend the rest of life looking for her." "Bayou Moon" is wildly romantic, with the most chilling and fast-moving conclusion I've read in recent months.
Changeling Dream, by Dani Harper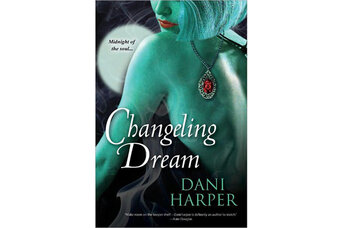 Dani Harper's Changeling Dream also features a lupine changeling as its male lead. Years ago, Jillian Descharme was rescued from a brutal attack by the sudden appearance of a great white wolf with blue eyes. Over time, she decided that the wolf had been a figment of her imagination. But now that she's moved to a remote town in Canada to work as a vet, the same white wolf keeps showing up. The animal, of course, is Harper's hero, James Macleod. James lost his wife and unborn child in a horrific attack by a killer determined to destroy all changelings. The ever-present threat causes James to retreat into his wolf skin and barely think as a human. Even as the violence spills into her daily life, Jillian tries to find ways to coax the ultimate loner – so isolated from human contact that he thinks as a wolf – back into his own skin. In romance novels, an earlier marriage of either hero or heroine is frequently depicted as less than satisfactory. But in Changeling Dream James's deep love for his murdered wife, Evelyn, is the bedrock on which Jillian and James build their relationship – the bridge that James needs to cross back into human society.
Cold Touch: Extrasensory Agents, by Leslie Parrish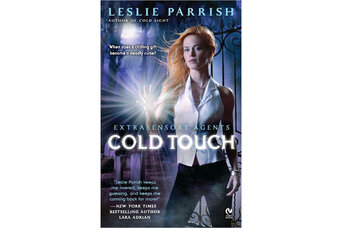 Gabe Cooper, in Leslie Parrish's Cold Touch, is a police detective (the accumulation of loners in the military and police force is obviously no accident). Olivia Wainwright, Parrish's heroine, has the unenviable ability to touch a corpse and relive his or her last moments. She gained that "gift," so to speak, after a harrowing ordeal as a young girl in the hands of a sadistic murderer. She now works for eXtreme Investigations, solving cases by reliving death experiences. When she sees a report about the discovery of a boy's body that seems to link to her childhood kidnapping, she contacts Gabe. The pair come from utterly different backgrounds; Olivia is "all soft southern gentility, and [Gabe] is one step above po' white." As the case unfolds, Gabe has to put aside his hardened skepticism and learn to listen. And when he starts to fall in love, he has to learn about how to speak about emotion. "I don't suppose you're ever been" to therapy, Olivia asks, and Gabe's dry rejoinder speaks for itself: "It's been recommended by a woman or two over the years." Olivia's heart-wrenching gift makes her life very difficult. But a loner who falls in love is the best protection against the world's sorrows: "she knew, down to her soul, that he would move heaven and earth to makes sure nothing ever hurt her physically." As the seemingly ancient case breaks into the present, Olivia and Gabe move together toward a "normal" – and joyous – life.
Heartbreak Creek, by Kaki Warner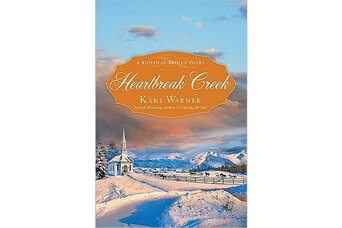 Declan Brodie, the hero of Kaki Warner's Heartbreak Creek is a widower, a man who desperately needs help with his mountain ranch and four children. Reluctantly, he posts an advertisement asking for a "sturdy" mail-order bride. After Edwina Ladoux marries him by proxy, he's unhappy with the "bedraggled, rail-thin" woman who steps off the train from Louisiana. For her part, Edwina assumes he's an irritating ranch hand, as she tells her sister within earshot of Declan: "He's a cretin…. Dumber than wet mud. A giant mute with the brains of a flea and the personality of a pound of rancid acid." It hardly need be said that the lively Southern Edwina is not an instant fit for the role of rancher's wife. "I like to dance and play and laugh," she says later to Declan: "You don't. It'll take some adjustment." Edwina is not sturdy nor hardworking, but she is joyful and inventive, and Declan, for all his taciturn resistance, falls in love. Heartbreak Creek is a terrific entry into the "convenient marriage" genre, in which courtship follows marriage, is tailor-made for the "lone wolf" theme. Marriage to Edwina not only lures Declan to dance (and laugh), but brings him back into the community. Like humans, most wolves need the company of others to thrive.