1.Infiltration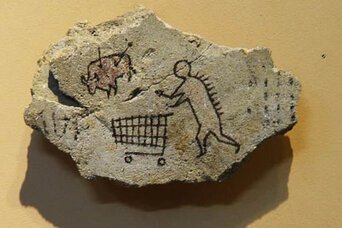 When Banksy was still relatively unknown, he would sneak his original art into museums and put it up on the walls with little placards describing the piece. Back then, he was described as an "art terrorist" gluing "fake" art up in The Natural History Museum, the Louvre, the Tate, and the British Museum.
Robbo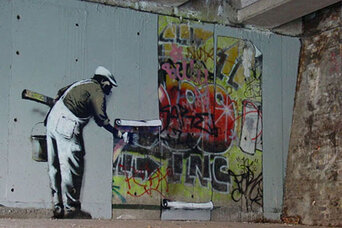 Robbo was a graffiti artist who had one piece remain essentially untouched for over 25 years – the equivalent of two Ice Ages in street-art terms. Robbo was one of the most respected artists of all time on the London street scene. Over the years his piece had been covered up, so Banksy painted over it. Robbo took it as a diss and started a little tiff. The two of them "battled" back and forth on the same piece of wall for a couple of years, but when Robbo had an accident, Banksy tried to recreate the original. You can see the battles on Banksy's website here. Just look for the question about Robbo.
Banksy becomes big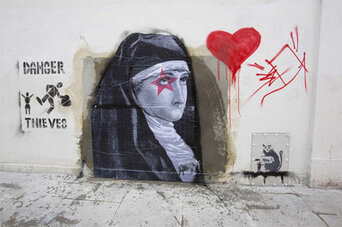 You know you're popular street artist when a member of the town council comes out in defense of your art. That's exactly what happened to Banksy. As he gained popularity, one of Bristol's deputy council-members said, "I know we have a zero tolerance policy on graffiti, and that is absolutely right. However, we have to be flexible so on this occasion I have agreed that Banksy can be an exception to our rule and can stay."
Santa's Ghetto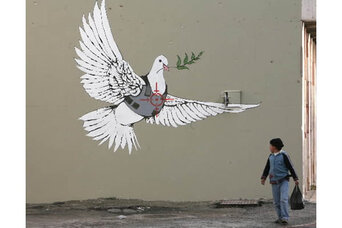 The idea of a popup gallery isn't a new one – unless you're a graffiti artist. Banksy started the tradition of the Santa's Ghetto: Christmastime popup galleries that featured Banksy's work printed on canvas. The exhibits were held in venues like warehouses and pubs and were of very duration – three days or so. They started small – in neighborhoods in and around London and once even in Palestine – but within three years the shows were nearly selling out. During a 2003 exhibition, Banksy entered the north London warehouse housing a Santa's Ghetto, only to see police asking one of the exhibition's staff if Banksy was there. "'I'm sorry I can't help, I don't know who Banksy is,' the staff member lied. 'But just as I was saying this I saw Banksy stroll into the exhibition. He must have seen the police at that moment, because he moved along quite quickly as though he was looking at the paintings and then very calmly walked out again.'"
Banksy takes on Paris Hilton
When Paris Hilton's debut album came out, Team Banksy went around to 42 different record stores and replaced her CD with Banksy remixes. The most ingenious part of this was that he totally doctored the booklet that accompanied the CD. It maintained the original barcode, but as soon as buyers opened the CD, they discovered that the original song titles had been replaced with questions like, "Why am I famous?" No one complained about the mix-up.
Banksy takes over a museum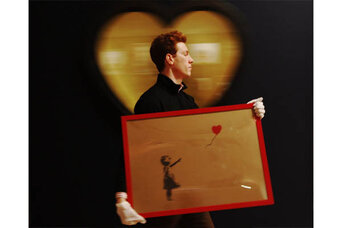 In 2008, one of Banksy's representatives called the Bristol City Museum and Art Gallery (in Banksy's hometown) and asked to be put through to the director. The museum employee who answered the phone thought it was a joke and hung up. But Banksy meant business and nine months later, the museum doors opened on an exhibition of his work. The contract he'd had the staff sign was so secret that "If it [got] out it [would be] over. Nothing [would] happen."
The exhibition ended up being part treasure hunt, part exhibition, with clusters of work obviously by Banksy combined with smaller pieces of art hidden throughout the museum. As Ellsworth-Jones notes, a critic from the Observer called the show a "sell-out in every sense – meaning it was both a crowd pleaser and the moment when Banksy gave up his outlaw past and joined the established art world."
Banksy and détournement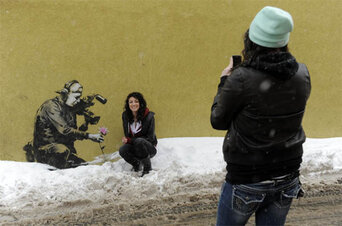 Banksy is a skilled practitioner of the art of détournement – that is, the reworking of an icon in order to subvert its original meaning. Strapping a bomb vest onto a Michelangelo statue is one example. Placing a blow-up doll dressed as a hooded Guantanamo bay prisoner in Disney's Magic Kingdom is another. Yet another might be a stenciled picture of two officers of the law making out. All of these Banksy has done.