1."Bone," by Jeff Smith
If you have not read Jeff Smith's Bone series, you really need to do so. What you will discover is a masterpiece of comic storytelling appropriate for readers of all ages. "Bone" (Scholastic) tells the story of three cousins: Fone Bone, Phoney Bone, and Smiley Bone, who venture out of Boneville and end up in a strange new valley and an epic adventure.
Along with the young Thorn and her Gran'ma Ben they encounter rat creatures, dragons, hooded warriors, a giant mountain lion, friendly forest animals, and Ted the bug. Smith masterfully juggles this "Lord of the Rings"-style saga with many laugh-out-loud moments. The Bone cousins are great, endearing characters equal to some of Disney's best.
In 2010, there were two new additions to the epic. The "Bone Handbook" is a goody bag full of all things Bone, including a rundown of the characters and story, interviews with Smith and Hamaker, comics, fun facts, and even some recipes. Just released this summer is "Bone Tall Tales." This pulls together some other short stories mostly centered on Daniel Boone-type ancestor "Big Johnson Bone."
Then for readers who can't get enough of Gran'ma Ben, there's also "Rose," the story of Gran'ma Ben when she was a young princess. "Rose" makes a great prologue to the main saga, despite the absence of the Bone cousins.
"Smile," by Raina Telgemeier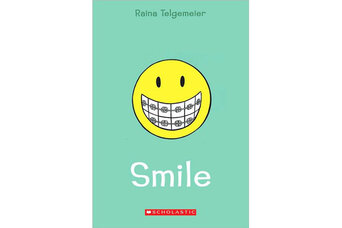 Smile (Scholastic, 224 pp., $10.99), an autobiographical graphic novel by Raina Telgemeier, deals with the author's early teen years growing up in San Francisco. Raina recalls an accident in which she injures her two front teeth and must spend years dealing with dentists and braces.
At heart, this is a story about growing up, coping with insecurities, and becoming comfortable with who you are. Tel­ge­meier has a fun cartoon style and excels at meaningful facial expressions. Teens struggling with issues of appearance and identity – especially if they wear braces – may take comfort in the thought that one day they'll learn, as Raina does, to feel good about themselves, inside and out.
"The Cloud Searchers," by Kazu Kibuishi
The Cloud Searchers (Scholastic, 208 pp., $10.99) is the third book of the "Amulet" series, but readers don't have to have read the first two titles to enjoy the whirlwind adventures in the third.
Emily – who wears the titular amulet – is a "stonekeeper." In Book I she leaves our world with her brother and mother and embraces her destiny to free the mysterious world of Alledia from the evil Elf King. Besides her family, Emily is joined on her quest by a colorful crew of robots, a human fox, the Elf King's own son, and (in Book III) a human bear who happens to be the captain of an airship. Together they embark on a journey searching the skies for the legendary floating city of Cielis, home of elder stonekeepers. Hot on their heels is a bounty hunter hired by the Elf King to stop them.
Author-illustrator Kazu Kibuishi has created a cast of fun characters that you quickly come to care about. Emily and her brother are scared, unsure kids, and often make mistakes. Their uncertainties give them an appealing humanity that transcends their strange surroundings.
Kibuishi flexes his artistic muscles on the beautifully painted two-page landscapes in this book. He creates a new world and lets his imagination run wild with giant mushrooms; ancient, talking trees; and amazing cities and buildings.
All the adventure, narrow escapes, and mysteries to solve make this a story a page-turner that will leave readers ages 9 and older eagerly waiting for the next installment.
"Tiny Titans," by Art Baltazar and Franco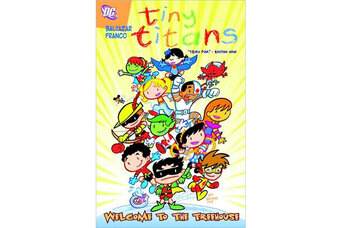 DC comics offers a line of books especially for young readers under their "Johnny DC" imprint. One of the most popular titles is the award-winning Tiny Titans.
"Tiny Titans" follows the adventures of little-kid versions of the "Teen Titans" such as Robin, Supergirl, Kid Flash, Wonder Girl and many more. All are drawn in a cute, noseless, cartoon style by artist and co-writer Art Baltazar. Baltazar, who along with co-writer Franco craft short, funny stories moving through the large cast so all the characters get a turn in the limelight. To add to the fun, between stories there are puzzles and games.
The lastest edition of the monthly comic is entitled "Sidekickin' It." The kids get themselves into all kinds of predicaments, whether they are going to classes at Sidekick City Elementary, having a meeting of their super pet club, or driving Alfred the butler crazy.
For all your young superhero fans, the "Tiny Titans" series is a funny and engaging introduction to the vast assortment of heroes and villains in the DC universe.